Nanny Betty's nursery is open seven days a week but you do need an appointment booked in advance. The nursery is based in Chigwell close to Grange Hill tube station which is on the Central Line and approximately 45 minutes from central London. Nanny Betty will pick you up from the tube station and drop you back or if you are driving there is safe, free parking.
Diaper Lovers are welcome to remain 'adult' and sit and chat with Nanny Betty in the living room having a cup of tea while wetting their nappy.
You can be an older child or adult baby, receive TLC or be spanked, humiliated and forced to be dressed and treated as an adult baby.
The whole first floor of Nanny Betty's house is devoted to adult babies and diaper lovers and the nursery suite is a fun and very clean and comfortable fantasy world to relax and be yourself in.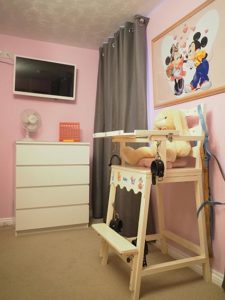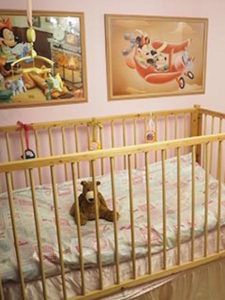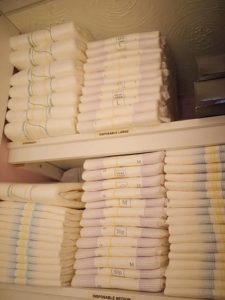 All sessions are in a secure, clean, modern and discreet domestic environment with safe free parking. There is a pink sissy nursery room complete with an adult size cot with pink satin sheets where, feeling just like a Princess, you may watch DVD's or be put to bed for a nap or for the the night (restraints optional).
Meals are served in the adult sized highchair.
There is a wide choice of baby girl dresses and frilly petticoats plus a selection of clothes for adult baby boys to fit most sizes. There are soft, fluffy terry and disposaable nappies, creams, powder and baby wipes. I also have a girls school uniform, lingerie, ladies clothing, make-up, breast-forms, heels and wigs for babies that like to become an older girl.
There is a set of leather reins, pink leather cot restraints, baby bottles and dummies, baby feeding bowls and spoons, a large changing mat and a selection of dolls, teddies, books, toys and DVDs… and for those naughty babies.. lots of spanking implements including Nanny's firm hand.
You will be attended to all the time and will not be left on your own unless you require a nap or Nanny is preparing your food and bottles. At the end of your visit you are able to shower and toiletries and a clean towel are provided.
It is worth mentioning that you will be the only baby at the nursery – and you will not meet any men, unless you have requested Uncle Frank to join you.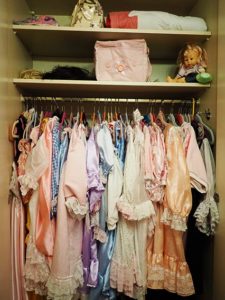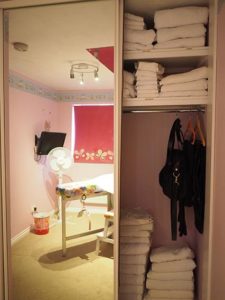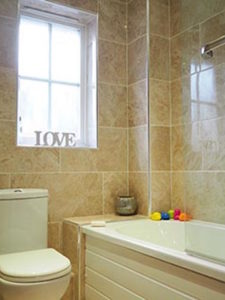 With extended sessions there is the time to go to the cinema, shopping or to the park where you may wear a bulky nappy and plastic pants under your clothes. If it's dark, Nanny may even take you out in full baby clothes to the park!