A belated Happy New Year and apologies for taking so long to update my blog. For those that haven't been following my Twitter feed you may have been wondering what happened to me.  I have simply been extremely busy looking after ABs and Diaper Lovers as well as getting some building work done on my house.  It's certainly been all go.  However I have managed to update my Twitter with what's going on usually at least twice a day – the advantage of Twitter being that it only takes me a few minutes and often that's all I've got. I can also load photos and short videos onto Twitter easily so if you haven't taken a look yet I suggest you do as hopefully you will find it entertaining.  You don't even have to sign-up or anything just to view my Tweets – see the link on this page.  I've got some very exciting things planned for this year – one of which is to get my Adult Baby Members Area off the ground. Work has been going on behind the scene and I hope to have it up within the next few months.  In the meantime I have made a few films for www.UKDiapergirls.com – including some that I filmed today. Here's a pic below of me last year with the lovely ChloeToy.
The building work I recently had done was to comply with building and fire regulations after adding another floor to my house. The open plan living room had to be closed off from the staircase.  The builders earlier in the year should have sorted it properly and they left me in a mess to deal with it myself. Not good and very stressful at the time but it's all behind me now. I did entertain myself though with making sure that the new builder wore a nappy while he worked away.  I also trained him to bring me tea and toast in bed in the morning.  In fact I miss having a sissy maid now.  I have a plumber coming to fit a new radiator next week and he will be put into a nappy too. I have been working much more with Aunty Amy, having such fun and she is available for appointments with me or by herself during the day, some evenings and for overnight visits. Beneath the pics of the nappied builder is a pic of Aunty Amy spanking away and organising some of the fun new ABU brand nappies that we have in the nursery.
I received some very generous Christmas and birthday gifts and many cards – big hugs and thank you's again to all of you.  There have been odd mad moments where I danced around during a session in my PVC dress – and tried to force Aunty Amy to join in too and on another occasion I rose to the challenge and wore a nappy and a baby dress myself as a Christmas treat for the many people that wanted to see it.  All in the spirit of having as much fun in any given moment as possible. I've also attached a pic of a sissy adult baby in the same baby dress I'm wearing – but she's also wearing very pretty tights.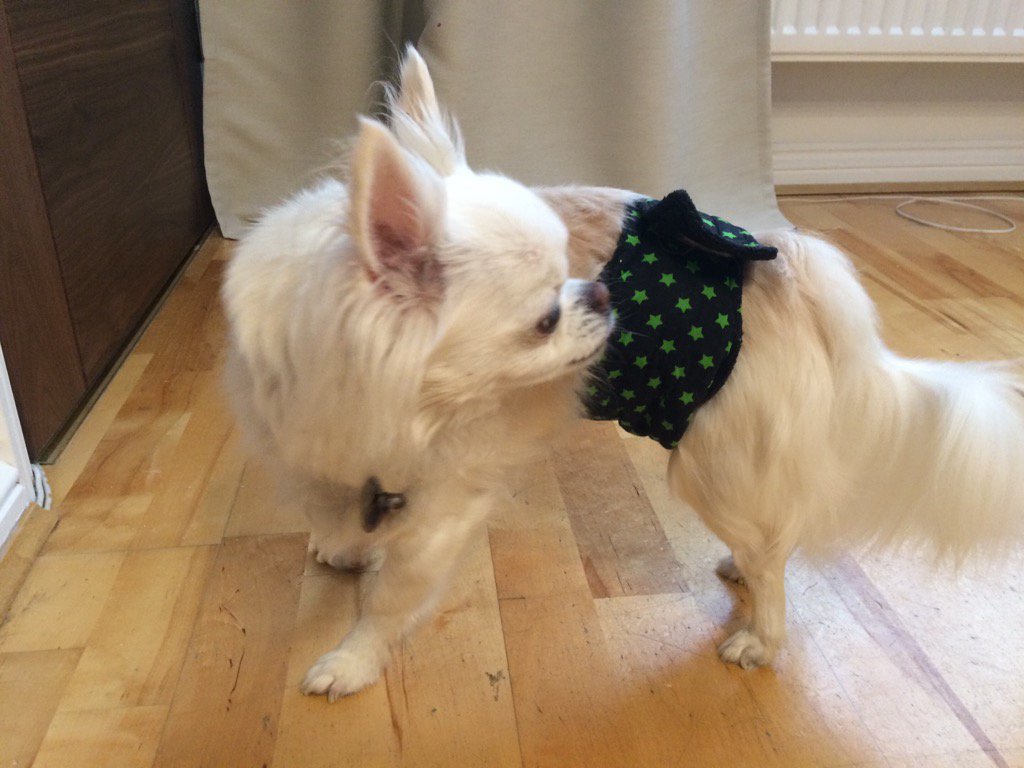 It's my dog Terry's tenth birthday on the 3rd February. I really cannot believe how fast the years have flown by. It doesn't even seem that long ago when I brought him home as a tiny puppy and he made me laugh so much when he saw his reflection in the mirror and was scared of it. He's sitting in snuggled close to me now as I write this. Adorable and when he's not annoying me he makes me feel so warm and fuzzy inside and full of love. Which indeed is a very nice way to feel. Here's a pic of him with his very own little nappy on – because ALL males must wear nappies when in my house lol.
Adult baby Tamara from Switzerland brought her own glass baby bottle with her – they are German and very hard to find. I was scared handling it and didn't dare use it to heat the milk in the microwave just in case. All went well and she took it back to Switzerland with her. My tummy tattoos are all done now and healed – here's a pic so you can see the final result.  Being Winter I haven't really had much chance to show them off but I'm looking forward to skimpy Summer clothes and a little bit peeping out and surprising people. I've also included a pic of Baby Ella in a straight jacket – that's what some naughty babies can be put into if they misbehave (and enjoy restraints)!
Well that's it for now. I shall try not to leave it so long next time before updating. Until my next update – stay safe and have lots of fun.
Lots of love
Nanny Betty xxx