Penelope Pansy from Ireland came to visit for a long weekend. At her request she was made to come out on a shopping trip with me and Aunty Amy wearing a very thick nappy which she'd earlier been made to poop in.  Two ladies in the Summer sales lol – most of the time we were oblivious to the humiliation and distress of poor Penelope Pansy walking around like that…. we were just focused on our bargains.  I bought myself a lovely white lace beach cover-up for my forthcoming holiday and some very nice maxi dresses. Aunty Amy bought herself some make-up and clothes for a party she was going to that night. Hmm Penelope Pansy was remembered in the end and I bought her some jars of baby mush.  Penelope Pansy also joined in with me when I was doing my 'Short-Shorts' workout.  A little harder I'm guessing with a big bulky terry nappy on 🙂
You can see in the pics below Penelope Pansy in the supermaket wearing baby denim dungarees and FIVE nappies.  Now that is a BIG bottom!!  I have no idea how I can walk around with someone dressed like that and not have one ounce of embarrassment lol.  The dungarees have been kindly donated to the nursery so if you'd enjoy being dressed like that – feel fee to ask. Baby Kate from Holland has indeed already been out in them.
Penelope Pansy was made to crawl on the floor at all times indoors. Go down the stairs on her bottom and had only mushy food for her whole visit.  She had one adult meal – a fish pie I'd prepared myself (one of my specialities) – which by chance happens to be mushy and perfect for babies. She was spanked and caned and made to write hundreds of lines at a time until she remembered to speak only in a baby voice and do as she was told.  Despite her strict regime she was still cheeky. When she heard I am nervous that my planned tattoo might be very painful she kept teasing that it will be agony … and that maybe I should be spanked every day to build up my pain threshold.  A very foolish sissy girl indeed!!  I have booked my tattoo appointments – 2 x 3 hours (ouch!) – the first available slots with the best artist was October so I have to wait a while.  TV Monica is very generously buying it for me.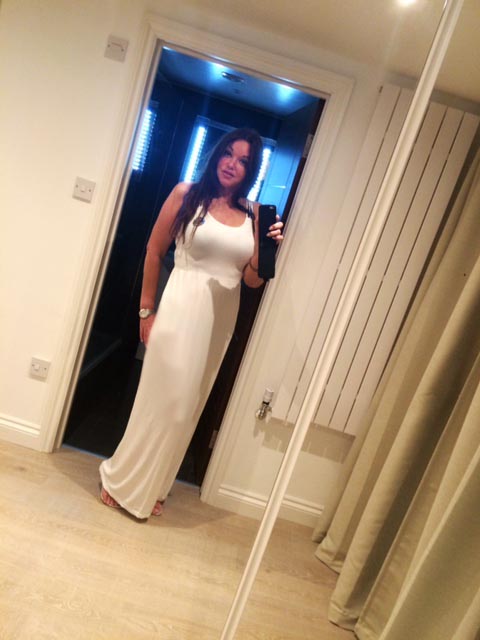 I'm still getting the hang of Twitter but I do now Tweet quite a bit between blog updates if you'd like to know what I'm up to as it's happening – click on the Bluebird at the top of my website pages.   Also I've just learned how to upload videos to Twitter – which you can download to your phone – one is on there now and more will be coming very soon.  I did say on Twitter that I'd talk about my builder situation in my next blog – however the situation I'm dealing with is still very unknown (and sadly extremely stressful for me).  That's life – sometimes you win and sometimes you lose – you just can't let people bring you down.  The bigger picture is still great 🙂
I'd like to say some big thank you's to: Penelope Pansy for the fancy Irish cheeses and crackers. The speciality honey and the scented candle. The denim dungarees, books and CD for the nursery and the kind contribution to Aunty Amy's dog fostering. Such a generous sissy baby girl!!  Also to Sissy Suzy for the beautiful palm tree, flowers and the regular naughty supply of Almond Croissants. Also to TV Monica for the very generous tattoo gift voucher. To sissy baby Pauline for the generous contribution to Aunty Amy's rescue doggy care and to Baby Ronnie for the big bag of change for Aunty Amy – it's going towards Spot's food.
Until my next update – stay safe and have lots of fun.
Lots of love
Nanny Betty xxx