AB Mike as well as wearing nappies has a love of ladies panties. So as a special treat for him I sent him home in a pair of my clean, worn panties under his thick disposable nappy.  I often wind people up saying "what happens if the police stop you" – well in this case it actually happened. I learned this when I received the text below – I'm still laughing at the thought of him all embarrassed and flustered.  Hopefully there was a really hot female police officer ordering him to get out of his car.
AB Phillip from Australia has the biggest love of footed onesies ever. He often sleeps under a huge pile of them. An unusual opportunity arose where he could wear one to work as other people would be – so I encouraged him to wear one too – it would be a disaster to miss out.  I'm often urging him on to meet his sales goals and other important things in life so it was nice to hear that even though I haven't actually spoken to him in a while,  just texted,  my voice brought him comfort and inspiration. AB S came to see me for the first time and said how nice it was to have an English Nanny – that although the East European lady he had been seeing was lovely – that my English accent adds that something extra.  Some extra authority I'm guessing!
Here's a pic of AB S in the highchair. Mmmm baby mush spaghetti bolognese – apparently it tasted nice – it was meant to be punishment not pleasure!
Baby Sally from Sweden has just gone home after staying with me for a 'long weekend' that started on Monday.  Baby Sally explained that his visit to me was a big expense for him as he is not a wealthy man and that the flights, several  train fares, Gatwick Express and my fee came to about £2,500 which is a lot for many people. However, it became very apparent that he was totally enjoying his visit from the moment he arrived. He mentioned several times that he was "in heaven" and I could see from his face that he was really enjoying being taken care of, bottle fed, bathed, sleeping in the cot and being fed in the highchair. When I was changing his nappy on the new changing table he said "this makes me feel like a real baby" – he loved watching his nappy being changed in the mirror on the ceiling above the changing table. Before he left today I asked him if his stay was as he had expected and he sweetly replied that it was much better than he expected.  Curious, I asked what had  made it better than expected and he said it was the great  nursery equipment and my kindness – and he said that if he could afford it he would be coming back all the time. We had some great weather and went to the beach for the day – and had yummy fish and chips for lunch. Baby Sally's face was full of happiness as we sat on the beach together (he had a thick nappy on) and he said "I will remember this forever".  Baby Sally wanted me to take him to (possibly) the oldest pub in the world which is not far from me. It's certainly over 1,000 years old.  William the Conqueror, Oliver Cromwell, Charles Dickens, William Shakespear, Winston Churchill,  Liz Taylor and Richard Burton, Mohammed Ali, Madonna, Saddam Hussein are just a few of the pubs famous visitors… and now added to the list Nanny Betty and Baby Sally.  I always try my hardest to make sure that all visitors to my nursery have the best time ever – whether they are coming for just an hour or a long visit, whether they  are young or old, rich or poor. When in my capable charge you are given proper care and attention and can forget about the worries of the world.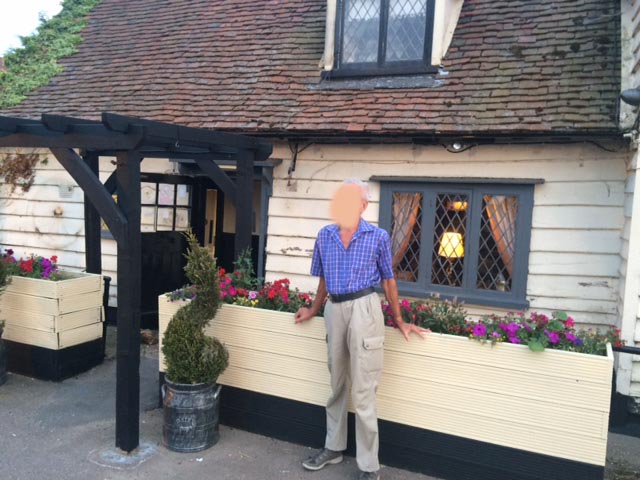 Thank you to those people that have put themselves forward to appear in my ABDL films.  I've been very busy with visiting adult babies lately but as soon as I get the time I will set up some filming sessions.  I am determined that the new members area is ready to go up by the end of this year.  Though that is an ambitious target.
I'm planning on getting a tattoo on my tummy.  I'm taking my time to think about what design as it's a big decision and my first ever proper tattoo and  I'm feeling a bit scared in case it hurts too much but I'm also excited.  TV Monica noticed that in my pic in my last blog I had a temporary tattoo on – I'm often amazed at how observant people are.
Until my next update – stay safe and have lots of fun.
Lots of love
Nanny Betty xxx