Yay it's all gone without a hitch.  The new version of my website is now up and running.  My tech partner was amazing with his help as I get stressed out by too much tech.  Him asking me for  FTP passwords that I hadn't used in years was enough to put me in meltdown lol. I hope that you like the new site.  I will do little tweaks yet as I learn how to use the new software and there are a couple of my old pics that I'd like to put back  on but overall I'm very happy with it.  I love my new logo – thank you baby Buttons – so pleased that you enjoyed your task and it gave you some much needed fun and distraction.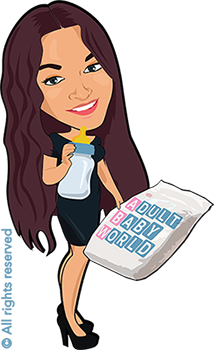 John came to see me for the first time recently and he requested that we did a role play where he had to be heavily scolded and punished for wetting himself. He is way too big to be having accidents and should be dry by now!!  Here's a pic of him receiving many strokes of the cane – naughty boy – sent home with a red, sore botty and a big smile 🙂
A while back now baby Gary came to visit me and Aunty Amy.  Baby Gary loves the humiliation when I inspect his wet pull-ups on arrival in front of another lady.  Aunty Amy joined me in laughing at him as he was made to sit on the potty in front of us.  Well, nothing in the potty even after ten minutes – so it was into a thick nappy and off for a nap in the cot as punishment – but not before an over-the-knee spanking by both myself and Aunty Amy. Just like me – baby Gary loves a can of red salmon by itself for a meal – except that he was spoon-fed his in the highchair.
I'd like to say some big thank you's to Babykins for the bottles of wine.  AB Chrissie for the scented candle.  AB Claudia for the chocs, baby Gary again for all the lovely gifts for myself and Aunty Amy and AB Peter for the generous tip.  As is often the case I am treated very well 🙂
Until my next update – stay safe and have lots of fun.
Lots of love
Nanny Betty xxx