At the time of writing this blog the UK is in a very uncertain time, the small majority having voted to leave the EU. It wasn't my choice – I personally like being a European and have planned for years to eventually live at least part-time in the sun. I don't know how us leaving Europe will affect me living and working in Spain or Portugal and I am now considering Dubai as an alternative – somewhere else I've been considering for years.
Relationships and trust take years to build but sadly can be destroyed quickly. I am a big believer in co-operation and collaboration and of win-win relationships. My country may be busy divorcing everyone at the moment but I am making new contacts and have a couple of exciting collaborative projects I am looking into. Hopefully I'll be able to tell you more soon but I don't want to bock them by talking about them before they are agreed.
I have updated the Nursery, Nanny and Gallery pages on this site – take a look – lots of extra pics.
I am going to Budapest next week for a short break. I'm staying in a lovely spa hotel and I am looking forward to having a massage and chillaxing around the pool all day.
Adult baby Dan from Australia stayed with me for a long weekend. We managed to pack a lot of fun into his stay. At his request we went to the Queen Elizabeth Olympic Park at Stratford and special celebrations were taking place for the Queen's 90th birthday. Below are pics of us on the tube train and at the Olympic Park. We also went to Hamleys toy shop and had fun playing with lots of toys – AB Dan didn't realise I was serious when I challenged him to a sword fight – at his cost lol. We also tried out virtual reality and did shooting practice in the store. AB Dan bought a personalised football shirt at the Nike store on Oxford Street and we went for a curry on Brick Lane in the East End of London. He requested some public humiliation so I allowed a nappy to be on show in my open bag on the tube train – women were sitting all around us and he got very shy. However AB Dan soon became very confident and bold and sat with his nappy clearly on display in Costa Coffee at Westfield shopping centre and in the Cart and Horses pub. The pub was a special trip for AB Dan as he is a massive Iron Maiden fan and they began their career there. As you will see from the pics Dan also became girly and also had his bottom spanked!!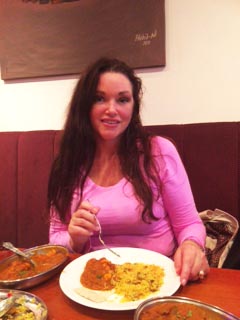 I'd like to say some big thank you's to AB Jenna for the lovely sunflowers and AB Sophie for the lovely bouquet of flowers, AB Lucy for the adorable Minnie Mouse, Sissy Baby Pauline for the padded mittens and Nursery Aroma Oil and AB Steven for the tin of French biscuits. I do love being treated so well.
Adult Baby Sophie came to visit and I'd set a demanding task to wear three embroidered items, six pink items and two nappies on her way to me. She actually managed it and below is a pic of the sweet bib she wore:
My silly adult baby from Scotland came to visit me last month and we had lovely sunny days – before the constant rain started. We had some delightful days out driving in the countryside and had a delicious lunch at The Shepherd and Dog and also at The Woodman – two of my favourite local pub restaurants. I do not watch a lot of television and never watch the soaps – however silly baby watched Coronation Street every night at his request and I watched too – and now I'm hooked. It's set to record so if I miss it – I have a big catch up and watch them all in one go. Never thought I'd be doing that lol. I remember my mum watching it when I was little. With that and my Sims addiction – soon I'll have no time to look after all the adult babies!! It's funny how when I do something in The Sims game I often then do it in real life. Life immitating art.
That's it until next time. Be safe, be well and have fun.
Nanny Betty xxx