I've been excited by domestic appliances again – at the risk of sounding like a complete saddo! I have had a fancy new induction hob and new oven fitted. Now I know some people may find it strange that I can get so exciited by such things but the hob is so sleek and shiny, the latest technology, very fast and reactive and so easy to clean – and the control knob is magnetic and comes off – so cool. As for the oven – the door slides away into the bottom of the oven so you can lift stuff out without burning your arms. I love them – cooking is now a pleasure and I've been making some nice tasty things. As a little girl I had a toy oven, toy washing machine, toy hoover, toy iron and ironing board as well as a doll that I fed bottles of water to which then wet her nappies that I used to wash in my little washing machine. Aaah here I am, day-in day-out, still having fun and playing with my toys – feeding babies and washing nappies lol.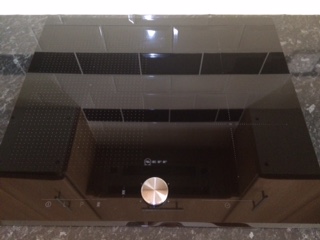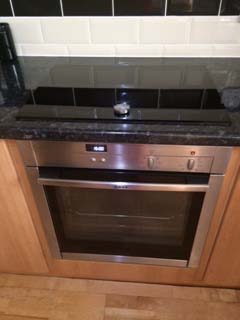 Adult Baby Liam came to stay with me for the first time and stayed for a long weekend. He had actually emailed me about five years ago but for some reason I didn't see his email (maybe it went into my junk folder??) and I didn't reply to him. Ooops. Instead of contacting me again he went to several other nannies over those years and didn't have very good experiences – I feel a little guilty about that but of course it wasn't my fault. He wanted a strict nanny experience and apart from one all of the other nannies he'd been to were too soft. Well, sweet and motherly as I can be – I have no qualms in giving a naughty bottom a very hard spanking or caning as you will see in the pic. He had a fantastic time with me and said it was better than any of the other nurseries or nannies he's been to – even abroad. Here's a pic of him playing in the living room, about to have dinner in the highchair in the new nursery and over my knee having a harsh spanking (he requested it). He had a huge appetite and loved all the tasty meals I was cooking in my new oven.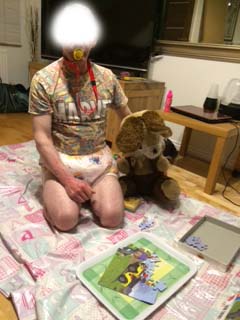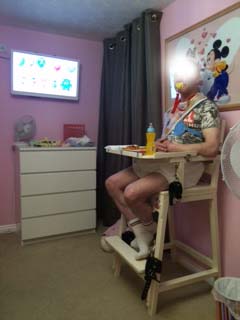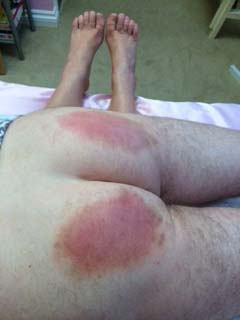 Baby Liam also wanted to go out and about so after a trip to the supermarket to buy snacks I surprised him with a little picnic in the park and a walk in the woods. He had a nappy on over his sore bottom and didn't know that I had a bottle ready for him and his dummy. It was a lovely sunny day and when I made him drop his trousers and spanked his nappied bottom in the woods as punishment for running away from me while we were playing hide and seek he turned to me beaming with happiness and said "you make fantasies and dreams come true". He had never even been taken outside in a nappy before. I love my work for many reasons but seeing that look on someone's face really does make me feel that all the effort I put in to what I do is worth it. Especially when it's someone in their fifties and they've waited all their life to have such an experience. Here are some pics of the day: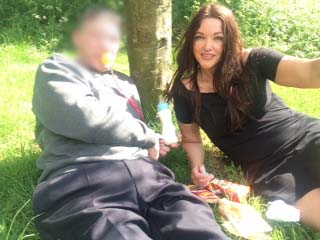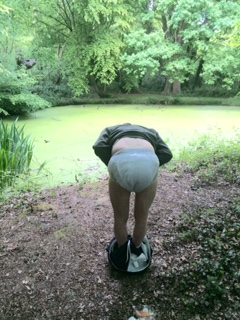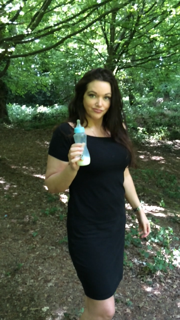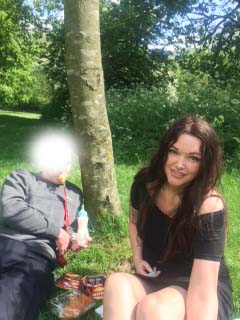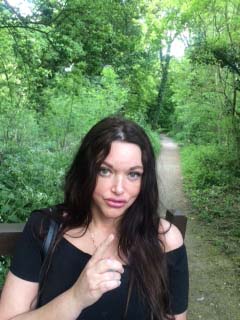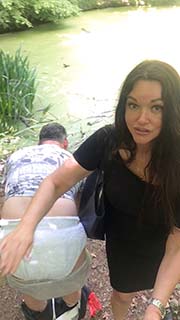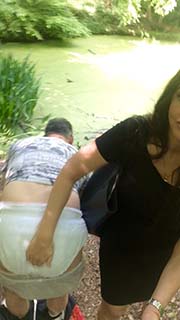 Baby Liam's favourite pic below – he was wearing his specially shortened t-shirt and his home-made nappy.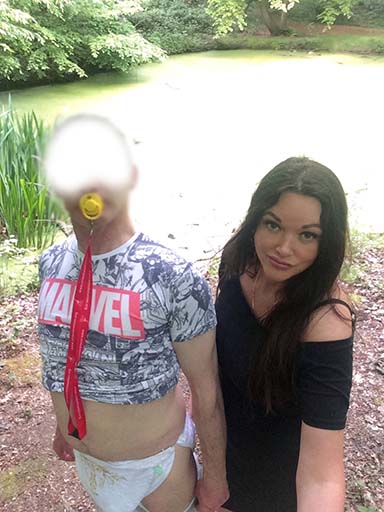 On Baby Liam's last night with me I took him for a play in the park. As you can see he really enjoyed himself on the climbing frame – yes he's actually hanging upside down – he loved being outside in just his t-shirt and nappy and I love seeing a happy adult baby having the time of their life.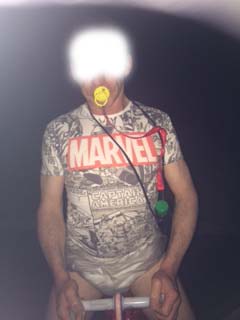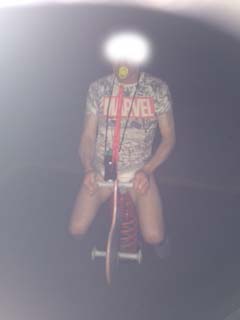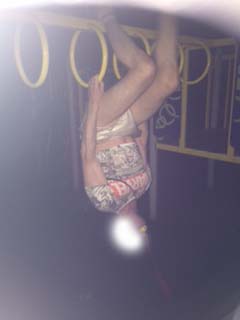 It's been months now since baby Bjorn came to stay with me from Norway but I've been meaning to write about him. He is only 21 years old and a very sweet baby boy. On his first full day with me we went out for a walk on Tower Bridge and this is what he said to me "in less than 24 hours with me, you know exactly what to do. It's kind of scary that you understand me so well – there's nothing I could think of or ask for to make it better. I wanted to be forced and you just naturally do it – I don't need to think I just do what you tell me to and it feels so natural."
Of course he had a nappy on under his regular clothing as we did touristy things. He wanted to buy some clothes while here in the UK so we went to FCUK on Oxford Street. He also wanted to eat at a super expensive, fancy restaurant and we didn't get around to it – so hopefully next time.
Baby Bjorn like many ABs with his dating future ahead of him is worried about what women will think of him being an AB. That they might see him as less of a man. Firstly there is much more to being a man than what you are wearing or whether you enjoy role playing being a baby.
Here are some of the qualities I look for in a man that I think are probably what all women value highly:
Being reliable and dependable.
Saying what you mean and meaning what you say. Integrity is everything!!!
Being honest, faithful and loyal.
Being hardworking and a good provider.
Being positive and fun to be with.
Being kind, caring and protective.
Being generous, chivalrous and romantic.
Being clean, tidy and well groomed.
Being a good listener, a best friend and appreciating the little things that are done for you.
Note – every lady will have her own physical type she finds attractive – but it's those good character qualities like those above that make you a MAN – and all of these can be worked on and improved if you feel you arent quite there yet.
Baby Bjorn could not believe me when I said that since a young girl I'd found men in those old fashioned frilly shirts attractive. To prove my point I showed him this Taylor Swift video and pointed out that her target market is current young girls and that the love interest in the video is attractive and wearing a frilly shirt. Be aware that women want to be in their own love story. Be her hero, give a lady romance and she will overlook a lot!!
Talking of which, the lady I met in the Czech Republic last year – I'm going to her wedding in July – my chance to wear a romatic dress too.
I'd like to give some big thank you's to:
Babykins for the mini straightjacket and for recommending me to other ABs
Paul and Michael for paying for the oven and hob
Until next time lots of love
Nanny Betty xxx