Finally it's sunny. I love it and hope that we have lots more sunny days and warm nights too. Please note that I have increased the prices of some visits to the nursery however I have kept the one hour visit and the overnight visit the same as they have been for years. Visits already booked are at the old prices.
Adult Baby Nicola came to visit me while I still had builders in my house and she requested some mild public play. She was very nervous so we didn't do anything extreme – she was instructed to wet her nappy in the baby aisle of the supermarket though. Here is the email she sent me after her visit:
Hi Nanny
Now that I have composed myself a little from yesterday I want to thank you for an amazing experience, sorry I was a bit quiet but think that was nerves. Firstly I think you have beat me, I'm not a big boy and just a little baby girl, needing to use that big thick nappy on the way home proved that (next visit I will not be wearing big boy pants to see you).
Secondly being in restraints while dressed fully as a baby girl was a thrill, especially in the knowledge that the builders were just outside the nursery and could have walked in at any time and seen me in such a predicament, and I would have been helpless to do anything. Sorry for my pee pee leaking everywhere when in crib, that just proved how much of a helpless baby I am, that can't be trusted without a nappy, plastic pant and plastic sheet under me.
Lastly a massive thank you for the trip to the shops whilst dressed in a baby t shirt, pink coat and a nappy on. Dressed being out was a thrill and next time hopefully have more courage to be a little more adventurous. Thank you for making me feel safe and although it was really busy in the supermarket and high street on a Saturday afternoon you made it feel just like a normal everyday occurrence. Even though I couldn't help over hearing a group of girls giggling when we walked (waddled) past and a few stares whilst in the shop. I remember you saying that I was not the only one with a nappy on as there were babies in the shops but I definitely think l was the biggest one.
Thank you again
Baby Nicola
Adult baby Lucy came for a visit and I took her to a McDonald's drive-through as she sat in the back of my car hugging her security blanket. We also went to the park and had fun on the swings and slide with her dressed as a baby. Here are two pics: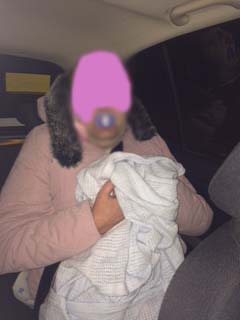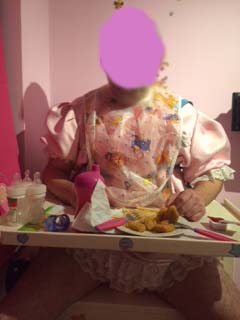 Baby Claudia came for Bed & Breakfast for the first time and very kindly wrote an online review – here is the link.
Baby Rachel came for a visit to the nursery and sent me this sweet email after her visit:
Thank you so much for the photos and thank you also for such a fabulous three hours, you really are very good at what you do.
Rachel xx
Here are some pics of AB Rachel in the new nursery – note that the position of the high chair is purposely at the nursery door so I can see the baby as I am coming into the nursery. I hope that you like the three Minnie Mouse pictures on the wall – I took ages choosing them: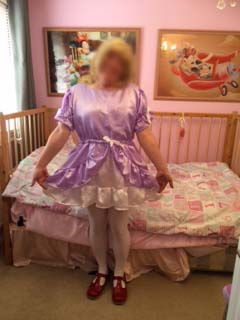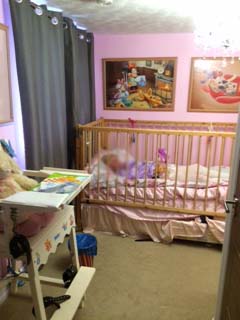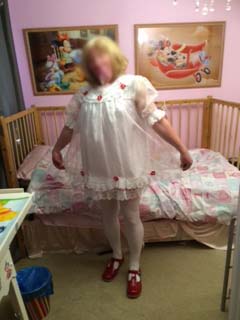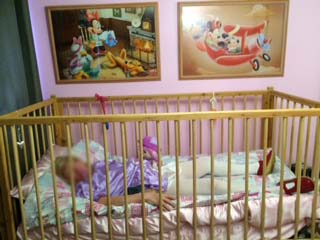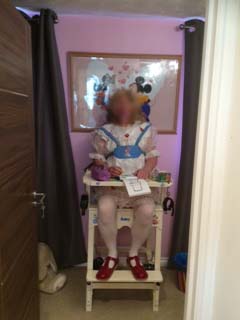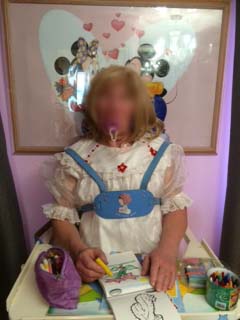 In my last blog update I included a testimonial from Babykins' second visit – here is the one she sent to me just after her first visit – it's funny now reading about the builders being in my house when she visited as it already feels like ages ago – though at the time it felt like it was never going to end!!
My first visit to Nanny Betty's nursery happened to coincide with building work she was having done, about which Nanny did warn me, and asked if I would prefer to rearrange. I was so keen, however, that I went along anyway, and am so glad I did. From the moment Nanny opened the door looking spectacular in wet-look stretch trousers and high heels, I was captivated literally as well as metaphorically!
I had written down a few things I hoped Nanny would include in the session, and while I was slipping into my rubber baby smock, nappy and plastic pants, she was kind enough to read my notes. Over the afternoon she skilfully slipped in almost everything I had asked for, in a very natural, easy way, woven into her own wonderfully strict, controlling and teasing style of domination. Because the house was full of builders I did not leave the nursery, but that was no hardship, since Nanny found all kinds of deliciously exciting ways to restrain me and make me feel very exposed and vulnerable, which in toddler mode I find very erotic.
I was allowed to show her exciting clips I brought on my own laptop, and she also fed me bottles of juice and baby formula, both in the cot and in a high chair to which I was secured in her robust set of reins. I find it very exciting to be teased and taunted, and Nanny immediately understood the atmosphere I respond to, and created it effortlessly, as if she'd known me for ages. Nanny even worked in an unexpected but very arousing visit from a friend of hers, who entered into the scenario in an exciting and natural way.
Nanny is not only a lovely person inside and out, but is obviously very experienced, very skilled and creative, and thoroughly enjoys what she does, which made two of us. I shall definitely be returning for a longer visit.
Thank you so much Nanny, from Babykins xx
Thank you so much Babykins for your kind words. Please note that Babykins was asked whether she wanted my friend to interact and warned about builders in the house. Normally it is just myself and one AB or Diaper Lover during a visit to the nursery.Below is an email I received from AB Kate from Holland – it's always lovely to hear that people are enjoying reading my blog – thank you AB Kate for your kind words:
Dear nanny Betty,

I read your diary update. Wow I am really looking forward to my next visit 🙂 Great news indeed about the big changing table.

I read a lot of ab stories on the internet and you make fantasy come true. Each blog update you impress me more and I get very exited even more about my next visit. First pics of you pushing the pram, then the public changing tables, then more public outings fully dressed as an ab and now your own changing table in the nursery…very great. So many fantasies to try next visit, can't wait. 
It will be great seeing you again, it's been too long.

Your thoughts for young people that you wrote in your blog is quite true and very recognisable about ab. Funny that you got so many reactions and questions about sleeping in the cot lol haha.
Your site is very popular. I told Margret from CosynDry that you are my nanny and a good friend. She said as well that you are very popular and have people all over the world visiting you.

You are a great person. As a nanny but also just as yourself.

Have a good night and be safe.

Lots of love, your baby Kate XXX
Here is a cute photo of AB Stephanie all the way from Australia – note the little dress I put her in is so short it won't cover her nappy no matter how many times she tries to pull it down:
I'd also like to share an email I received a while ago from AB Charles – so lovely that he was thinking of me whilst watching the sun rise from a mountain in Japan – that's got to be sending me good vibes and Karma. I'd love to know all of the beautiful places in the world where people are thinking of me and sending me love. I am the happiest ever so it's working. Like myself, Charles is interested in spiritual matters and we have had some very interesting conversations during his visits. Charles also shared his powerful TEDTalk with me which I enjoyed watching.
Dear Nanny Betty
It has been a while since I have written to you, but this April found me climbing a Buddhist spirit mountain in Japan, and out of the clouds watching sunrise over mount Fuji, thinking of the laws of the universe, I recalled your being to mind.  Perhaps there is something there, between my Japanese guest's beliefs in connecting to ancestors, and your art in reconnecting with earlier and different aspects of our identity; or just that there is a hidden power in both that brings deeper meaning.
That's probably a very rambling thing to have shared, but in the middle of cherry blossom and the land of Hello Kitty, it felt resonant to say it.  I do hope you are happy and that life is being good to you.  Really great to see you are expanding your wonderful space as you show on the website.  Would love to visit again, though I still struggle with all the complicated words in my life that seem to prevent me from clarifying whatever it is that brings me here, which means I'm no better singing Twinkle Twinkle Little Star. However, that aside, I wish you a truely happy Easter and Spring ahead :)))
I had a lovely time with AB Lucy when she recently visited me for a long weekend. As well as the usual AB fun I also got involved in giving Lucy dating advice – I enjoy studying dating advice for men and I'm always happy to pass on my knowledge and point you in the right direction. Baby Lucy had a very tough year last year but has come out stronger – Lucy and I sang this song out loud whilst driving in my car along a beautiful country lane in lovely sunshine. I took Lucy to a place with a beautiful view and she said "seeing this makes you feel glad to be alive". Lucy I truly hope that all goes well for you – that you meet a wonderful lady that can be your best friend and makes you excited to wake up next to her every day and I do believe that 'the sun's gonna shine on everything you do'.
I try to always be positive and many people have said that I am the most positive person that they have ever met. The reality though is that we are all living in the real world, not a Disney film and that life sometimes throws us a tough lesson and challenging times. Around February one of my close friends was unexpectedly diagnosed with stage 4 cancer. For relaxation I've always enjoyed researching about health and natural cures – often reading the latest research results – so the first thing I did was focus my research on what someone with cancer should be doing to improve their health and I decided that I'd put a link in here in the event that you are interested in what I've found as this awful disease affects so many of us and our loved ones.
I had a lovely long lay-in today, breakfast in bed and opened the French doors in my lovely new bedroom and enjoyed the sunshine and warm breeze. Lovely – here is a pic of my view – you can see my bathroom door on the right and my three meters long mirrored wardrobe on the left and of course my trusty Ipad which goes everywhere I go:
I have been a lucky lady and received many lovely gifts for which I'd like to say some very big Thank You's to:
AB Lucy for the beautiful flowers that were delivered before she arrived.
AB Babykins for the bottle of fine Champagne.
AB Gary for the pretty flowers and chocolates.
AB Louise for very generous gift of the shoes and dresses.
AB Julian for the fancy bottle of Prosecco.
AB Jenna for the lovely bottle of white wine.
I saw the quote below and it made me think of several people that have told me that they let the love of their life slip through their hands because they either didn't realise at the time that they would never feel that way again or they weren't confident enough to stand up for what they wanted. It's also very common for people to tell me that it's taken them so many years to get the courage to come and see me – yet they've been thinking about it every day. I say fight for that person, thing, dream or experience that you think about every single day. Do what it takes and make it happen.
Until next time, lots of love
Nanny Betty xxx