It's not blog update time yet but as I know so many of you are busting to see the new changing table – I thou
It's not blog update time yet but as I know so many of you are busting to see the new changing table – I thought that I'd share a few pics with you – there's two just showing the changing table and the little matching stool to help you climb up and the rest were taken with sweet AB Babykins as the model during her second visit to me – Babykins requested that I wear PVC for her session – I hope that you like the pics: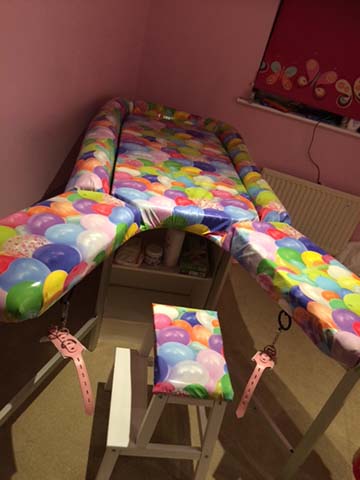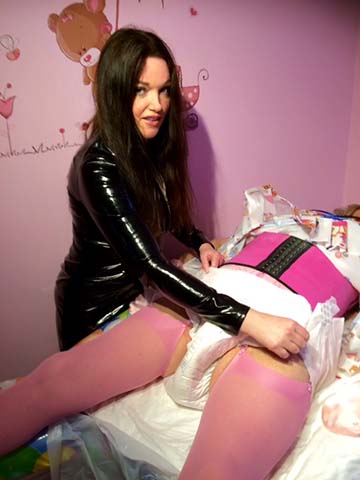 ril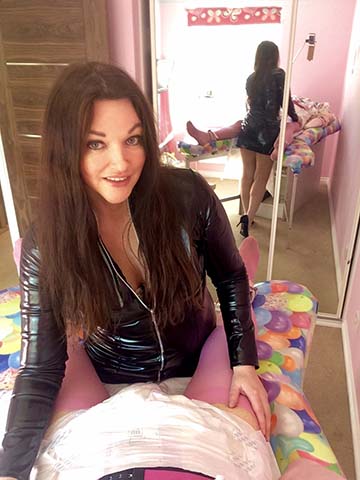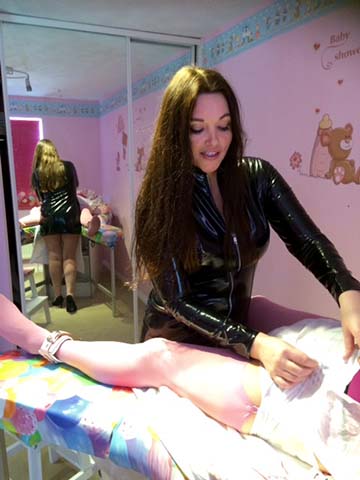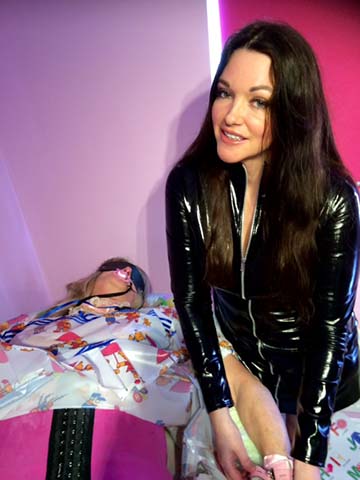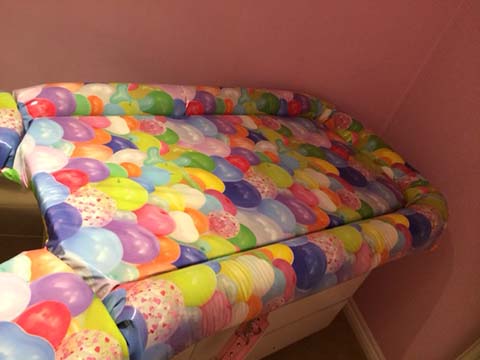 As Babykins stars in the pics with me – I've also shared the lovely email she sent to me after her visit:
Thank you for the photos. My favourite is the one with the reflection in the mirror – it is VERY erotic.
Hoping it might be useful to you as a testimonial for your website, I'd offer this about yesterday:
There is always a worry: will this visit be as good as the first?  It was even better – another incredibly intense and exciting experience. To me Nanny Betty is a glamorous magician who makes dreams and fantasies come true. I sometimes think I may be too demanding in telling her about my own dreams and fantasies, but she effortlessly and elegantly weaves in all the most important elements and still manages to introduce unexpected and thrilling variations. 
Her new ABDL suite is wonderful, especially the Nappy Change Room with the changing bench Nanny designed herself, complete with wrist, ankle and neck restraints. She is right in her blog comments about those locks on the doors and the exciting sound of hearing her turn the key – but then she has such a wonderful instinct for the AB scene she gets everything right!
I spent an unforgettable afternoon being subjected to so many erotic 'little girl' experiences: cot, nappy changes, high chair, spanks and even potty training. My excitement was even greater because Nanny invited Uncle Frank to be present for some of the time. He turned out to be a wonderful complement to Nanny, and they worked together seamlessly in creating exactly the atmosphere I had hoped for.
Somewhere Nanny mentions people have told her she is the 'best Nanny in the world'. It really is NO exaggeration!
Thank you SO much, lovely Nanny. I will definitely be back.
Until next time
Nanny Betty xx