Wow such a lot has been happening since my last update. Aunty Amy had spinal surgery and I had abdominal surgery. We are both well and recouperated though I am not quite back energy wise yet. Aunty Amy is going into hospital next week for abdominal surgery herself and will be recouperating in Norway for five weeks afterwards – so no Aunty Amy sessions for the next six weeks. The pair of us are a pair of clonks at the moment lol.
I have made friends with a lady that may be working with me in the near future when Aunty Amy is not available. She's very nice and strangely I met her when I was in the Czech Republic – she's English too. It's very hard for me to find someone I click with enough to work with and who 'gets' what I do – just goes to show you never know who you'll meet or where! Once I fully have my strength back we are going to go to The Torture Garden fetish club with sissy Suzie and some other friends.
My building work is coming on – I am in the worst bit now – in terms of mess as they are plastering – so there's mess and dust everywhere. Hammering and drilling going on every day from 7.30am – given my night owl habits – it's not surprising I feel exhausted. The builder raised my hopes at one point saying I'd be in my new room by Valentine's night – nope I will not be in there for around two weeks yet and you may find it funny to know that I am sleeping in the cot in the nursery until my bed is in my new room. Work on the new nursery – my old bedroom – cannot start until my new bedroom is completed – however the old nursery room is not effected by the building works so I am doing sessions in the evenings and weekends.
Here's some pics so you can see what a buiding site I am living in at the moment – I'm aware with most things in life they have to get worse before they get better but this can't end soon enough. I know it will all be worth it in the end and I'm having to focus on that to get through this!!!!!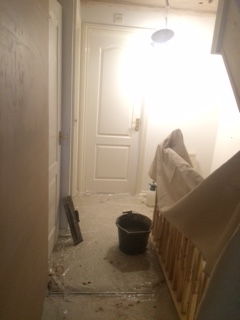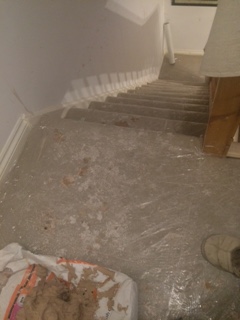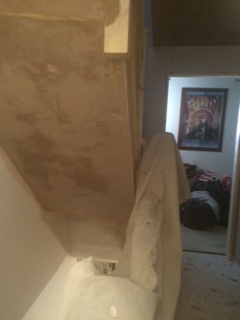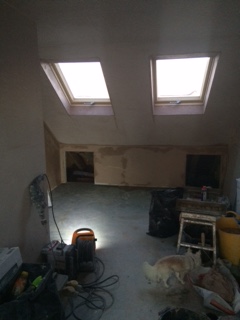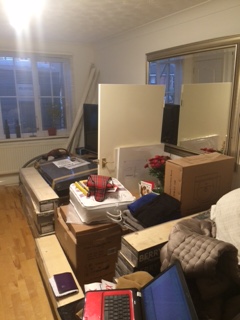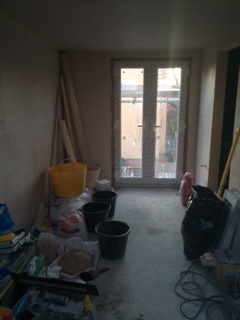 They say that you get like the people that you mix with. Maybe I'm surrounded by too much pink these days lol. I was browsing online looking for clothes for the planned new sissy boudoir and instantly fell in love with this dress that I want for myself. I'm sure that all the sissies would love it too but I just can't wait for warm weather and a posh do to go to so I can wear this: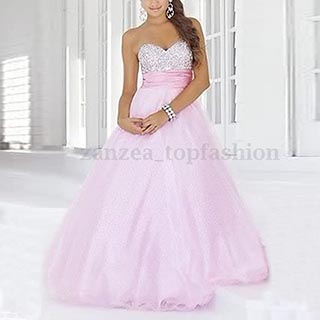 Before the nursery shut for the building work I had Penelope Pansy come to stay for a long weekend. As we always do, we got up to lots of AB fun including me taking 'her' to Ikea where I made her lay on a children's bed so I could take a pic – complete with a dummy in her mouth. We had a bite to eat whilst there and Penelope Pansy had to wear a bib in the restaurant, have me cut up her food for her and have her drink from a baby bottle – some ladies were watching and smiling!! The highlight of Penelope Pansy's trip was a visit to Aunty Amy's house and an attempt at pole dancing in Aunty Amy's pole dancing room. We also had a little party at my house with Sissy Suzy and Aunty Hazel where we all attempted Twerking – and Penelope Pansy beat all of us despite her thick nappy drooping down and making us all laugh. The nappy was put on by Sissy Suzy – which was a first and had us in hysterics as she required lots of guidance having never done it before.
A big thank you to Penelope Pansy for the lovely gifts – some speciality cheeses and delicious crackers and some very lovely Clarins beauty products. I do love being such a spoiled lady 🙂
Penelope Pansy enjoys quite extreme public humiliation and being pushed to the limit. You will see that as well as wearing a pink coat in public and a baby onesie – that on one day we went out shopping and to lunch with visible baby reins and a clip-on dummy showing when the coat was open – we also popped into a shop to buy some rattles!
Here are some pics of our adventures: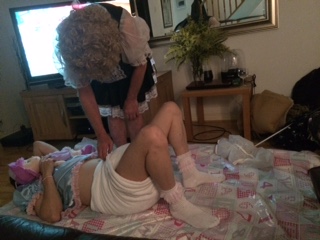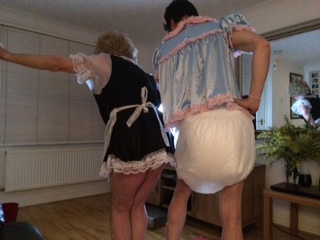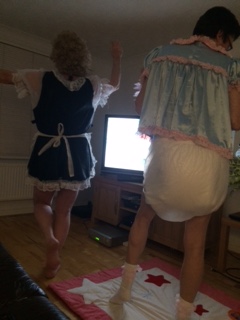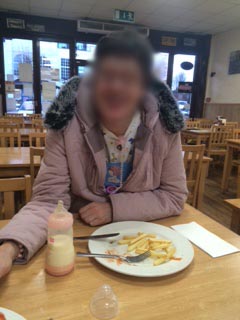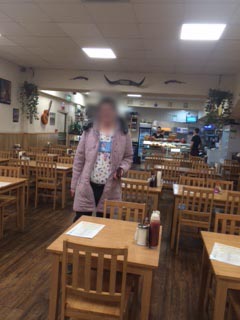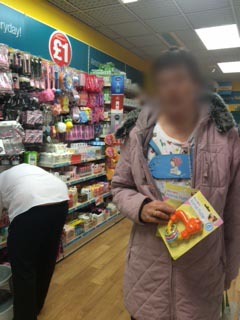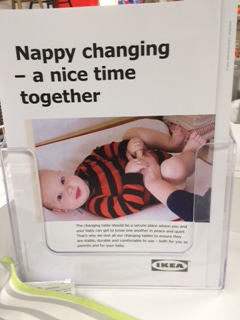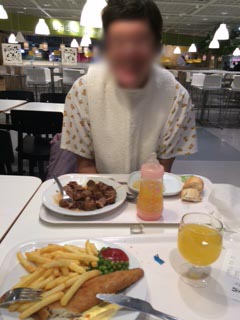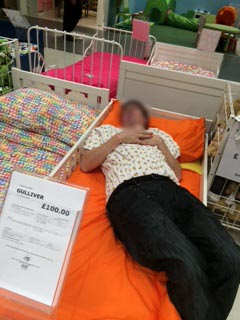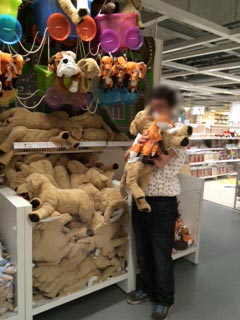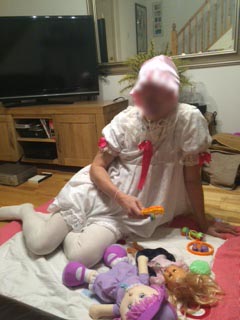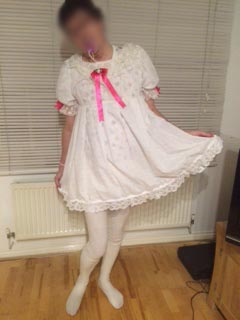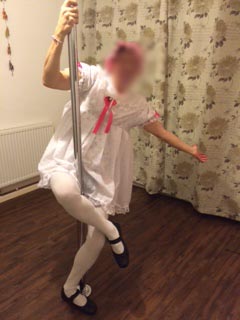 I had a new adult baby visit me – such a sweety he was worried that at 70 he was too old. No one ever is too old to be my baby – I love all my babies young and old. He'd read on my last blog that it had been my birthday and bought me some beautiful flowers – thank you baby David.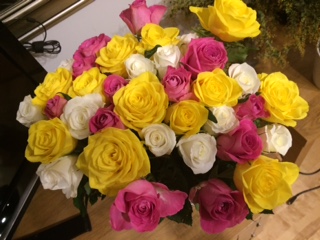 Well, when I next update my blog I shall be all settled in my beautiful new bedroom with my lovely en-suite bathroom. I can't wait. Be good babies and diaper lovers and make sure you are safe and having fun.
Lots of love
Nanny Betty xxx