I came accross a new (to me anyhow) term recently – Bitchy Resting Face or Resting Bitch Face (RBF) and I think it answers why so many people over the years since I was only 15 suggested I should be a Dominatrix. I must have BRF – I'm not overly concerned to be honest as I'm a big fan of the icons for BRF Vivien Leigh and Elizabeth Taylor and think they are two of the most beautiful women ever.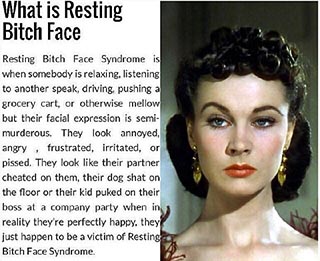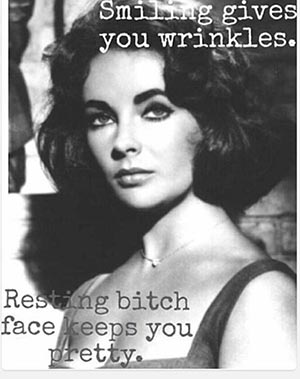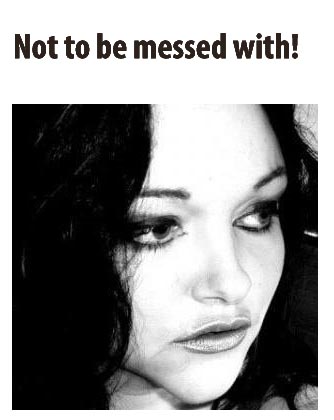 Here's a pic of me in the nursery last week with a sweet adult baby resting their head on my lap. If anyone knows how to stop your glasses falling down your face all the time – please tell me – or I might be tempted to try Bluetack!!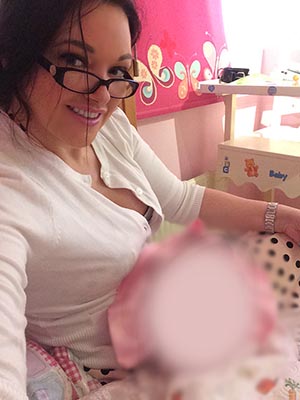 I took TV Cathy from Belgium to Lakeside – we had a lovely girly shopping trip and she was very patient while I spent ages choosing some sweet pyjamas. As Cathy was wearing a nappy I suspected that she was wet even though she said that she didn't need changing in public. So off we went to the baby changing room for a nappy inspection. Well, I haven't been to Lakeside in a while and they have added a new, funky, electric rise and fall adult changing table. So we had to try that and here is a pic of Cathy on the changing table at Lakeside.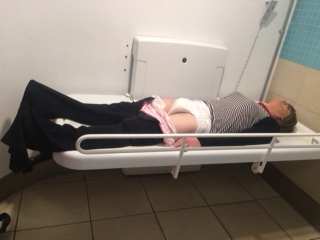 Great news for those that loved the old plastic backed nappies – I have managed to get a supply of old stock medium sized Tena nappies. As I have quite a few – anyone that would like to buy some – they are 10 for £10. They are no longer making these so once they are gone – they are gone.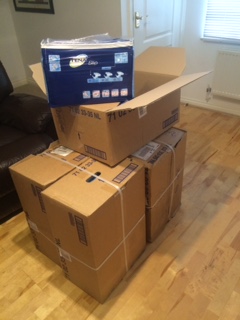 I am aware that some people read my blog for years before having the courage to contact me and it is very common for people that are contacting me for the first time to be very nervous. So I thought that I'd share with you an email I received recently (they gave their permission)so that you may see that you are not alone in feeling shy.
Hi nanny 
I came across your blog a few years a go and have never had the confidence to try a visit to an adult baby nursery. Especially with a nanny who looks so beautiful.
I have a fantasy of being humiliated and trained to be a sissy "slut". Forced to wear revealing skirts and extremely thick nappies whilst being made to suck upon a strap on or dildo, maybe whilst being made to wear a chastity device and butt plug under my nappy. 
Is this an experience you could cater for?
(I don't have a sissy name, I'd enjoy it if you could come up with one for me 🙂 )
Here is a copy of my email reply:
Dear sissy Jemima
There's no need to be nervous or embarrassed – I am very, very experienced with first-timers and I can absolutely promise you that you will be fine within minutes of meeting me.
There's nothing that you will say that I haven't heard many times before so I won't be shocked.
I can certainly put you in a very thick nappy and a very short revealing skirt and instruct you in the ways of being slutty and sucking a dildo.
I don't however provide a chastity device – but you are welcome to bring one with you and I can lock you into it. These can be purchased quite cheaply on EBay and you may have it delivered to me if that is easier for you.
With your permission I'd like to put your email (anon) on my next blog update.
Let me know when you'd like to visit and for how long – I'd suggest three hours but it's up to you.
I have named you sissy Jemima – I hope you like it.
Kind regards
Nanny Betty
Obviously not everyone asks for the same things that Jemima has – but her shyness is typical.
I'd like to say some big thank you's to the following for the lovely gifts – I am such a lucky lady getting treated so well.
Michael for the bushcraft knife for my camping kit.
TV Cathy for the huge box of delicious white Belgian truffles – I haven't had these in years and they were a special treat – I'd eaten more than half by the time I took this pic lol.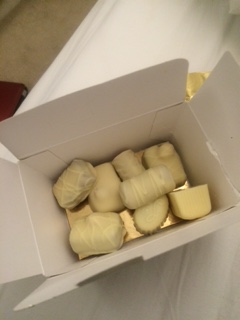 Princess Jillian for the book Guide to Las Vegas – that was such a thoughtful surprise and I will use it to plan fun trips for my holiday to Las Vegas next year.
DL Malcolm for the huge box of delicious chocolates from Hotel Chocolate – one of my favourites.
Sissy Suzy for the hand picked flowers – very pretty, colourful and some rare Dahlias.
Baby Sophie for the beautiful flowers, the extension cube and the elecric soup maker.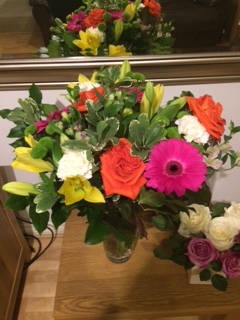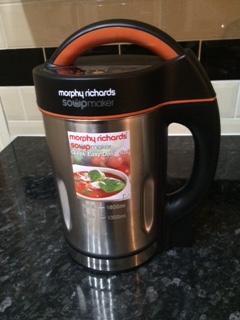 Here's a pic of the first lot of soup made in the new soup maker – one of my favourites – Broccoli and Stilton. The first pic shows the soup ingredients and also some of the biggest prawns I have ever bought. The cheese packs beside them are 150g for scale – I fried the prawns in some olive oil with chopped garlic and chilli – OMG so delicious!!
I have had a little bit of time off of my healthy diet and am going back on it next week. I have totally enjoyed eating all sorts of naughty stuff but the healthy diet does make me feel better. So next week it will be back off the bread, chocs and sugar.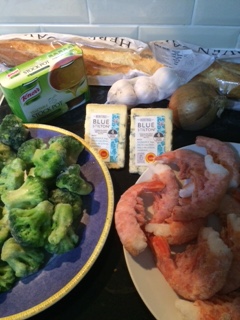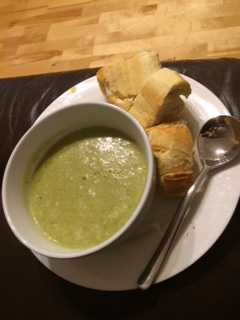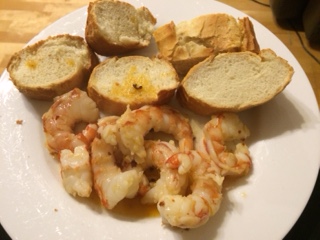 The other night I went on a Prison-Break role-play game with some family and friends – we were handcuffed to each other and had to use our intelligence to read clues and escape from several roooms. It was only an hour long and we 'escaped' with only 40 seconds to spare – we felt great as we are all very competitve and were determined to win. Luckily for me the guys were better than me at Morse Code but I certainly contributed to our escape. I recommend it as it was really good fun.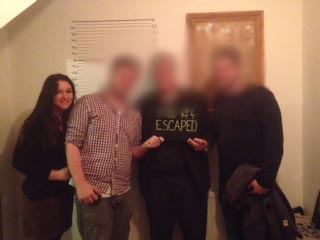 Until next time keep warm, be safe and have fun
With love
Nanny Betty xxx