It's been an unusual week for me this week in that in between looking after adult babies and diaper lovers I looked after a real 11 month old baby girl for three days as a favour for a friend of a friend. This was the baby's first ever time away from her mum and what with an unfamiliar environment she was predictably extremely unsettled and screamed quite a lot of her time with me and largely refused to sleep. Thankfully I had a friend helping me as I was absolutely exhausted by the end of the third day. Despite the screaming it was an interesting experience and I did get attached to the adorably cute baby and miss her – I love babies. The experience made me realise how much easier it is looking after an adult baby than a real baby.
I was checking out a hypnosis course and as I looked at the promotional material I realised that I already had all of the skills they were promising to help me learn. So I decided to give this particular course a miss.
Hypnosis Course:
1. Bring people back to their childhood making them feel warm, fuzzy and comfortable talking to you
2. Instantly transplant people to their favorite place in the world making them feel relaxed in your presence
3. Forces people to open up about their goals and aspirations making them feel confident around you
4. Make people laugh so they experience joy and look forward to interacting with you
5. Make people think deeply about a particular topic so they become engaged
And much, much more!
I am totally fascinated by metaphysics, hypnosis, healing, past-life regression, law of attraction and spirituality. Just imagine the myriad of ways that I could control you. Post-hypnotic suggestions, trigger words, programmed amnesia – as I put you in a state of complete relaxation – I could keep you in a state of regressed babyhood forever – trained to do whatever I want – or maybe just until the end of your visit!! Note – I do not hypnotise anyone unless they request it.
I've put a new pic of myself on my Gallery page and here are two others taken at the same time – as you can see I've got a paddle in my hand so no naughtiness!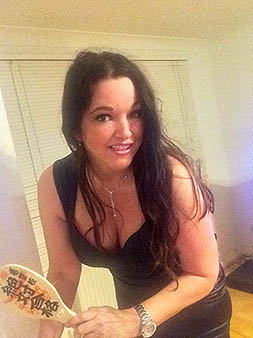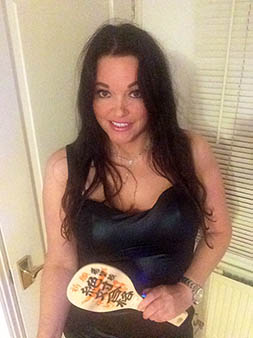 I'd like to say a big thank you to baby Sophie for the beautiful flowers, the Amazon voucher and the set of camping saucepans and kettle. I can't wait to try them out. I'd definately be needing a cup of tea in the event of a zombie apocalypse!! Also a big thank you x 2 to sissy Suzy for two lots of beautiful flowers. I have been spoiled lately 🙂
Speaking of tea – despite the great health benefits of green tea I've always struggled to drink it as I don't really like it. I like my tea sweet and with milk. Well I discovered in Sainsburys a 75:25 green and black tea blend that I am ok with drinking as if it is black tea and I am currently using up my stocks of green and black tea by putting one teabag of each into a teapot and serving with Stevia and almond milk. With this little change I am now drinking four cups of green\black tea a day and it's supposedly anti-ageing, anti-heart disease, anti-cancer, anti-diabetes and helps you be smarter, slimmer and live longer. Well I'll certainly drink to that and hopefully I've convinced you to give it a try if you haven't already.
Maybe as a reaction to having a screaming baby for three days I decided I'd indulge my taste for sophisticated adult-only fun and have bought myself some cocktail glasses and the ingredients to make Pina Coladas and Strawberry Woo Woos. I have always loved cocktails and I'm looking forward to regular film and cocktail nights – yay – well behaved adult babies MAY be allowed to join in. Surprisingly, fresh broccoli sprinkled with sesame oil and sea salt and then crispy roasted makes tasty and healthy nibbles. I'm sure the cocktail evenings is continuing the '70s retro theme lol. On mentioning Pina Coladas one of my friends immediately asked me if I also like getting caught in the rain and I knew what they meant… if you don't .. you need to listen to this from 1979. Now I'm just going to write out my ad for the personal columns lol.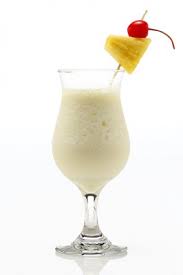 Until next time be well, be safe and have fun
Nanny Betty XXX