I hope that you like the new pics above and below my blog and on the homepage – I thought that some pics while I am still wearing a summer dress would be nice to look back on when it's chilly. My eldest AB requested that I show a bit of cleavage so – ta da – here it is.
While I was out shopping yesterday, a convertible car with its roof down was driving slowly beside me playing Donna Summer's 'I Feel Love', well it got into my head and tonight I couldn't help myself – I ended up having a Donna Summer night and felt all '70s. With the hits blasting out all evening in my living room I even went as far as ordering myself a '70s style jumpsuit online – that I will of course now have to wear either to a '70s party or go clubbing in it. I shall look as though I've just walked off the set of 'American Hustle' so I guess I'll have to get my friends to dress up retro too 🙂 – that will be such fun. Half of my friends are quite a bit older than me and the other half are quite a bit younger than me – so it'll either be a blast from the past or living it for the first time depending on who comes with me. For those of you that are wondering – did tonight become disco night – oh yeah – it's great fun – a bit of a Fandango now and then cheers you up and keeps you fit – even funnier in your underwear. I like this track – I listened to it many years ago on the radio in hospital in Germany as I was on the mend from being very ill and it cheered me up. It's funny how music takes us right back to a moment in time.
Here's an email from Penelope Pansy following her visit the other week – the first paragraph made me laugh out loud – don't get scared of me – I only spank and cane those adult babies that request it. Though of course I don't accept any messing about from anyone!
Apologies for the length of the email as I know you prefer short and succinct but I have a lot to relate.
Firstly many thanks for allowing me the opportunity to visit you again,  About 1,300 spankings, 40 cane stokes and no squirty at all for a generally obedient sissy baby WOW,  I would hate to be a naughty baby in your hands!
It certainly added plenty to my experience for which I am most grateful. I did actually enjoy the more dominant clothes you wore on Sunday night ( despite the heat). I meant to ask you what you were looking for that you did not find.  To be honest I, and I should probably not say this,  particularly liked the glimpse  of knicker  ( only a glimpse) on your stunning bottom and the opportunity to at least kiss the forbidden fruit of your pvc clad bottom.
Monday was most interesting, with the shy sissy and sissy Suzi, meeting Aunty Amy and the party.  Despite the humiliation of a public appearance I enjoyed the party and was surprised at how open the TV's were of my plight which made me feel comfortable. Part of me feels disappointed that the bikini clad lady did not want to be orally worshipped but in truth I am not disappointed at all at the lack of lollipop sucking opportunities.  It was a bit seedy and the men were in my opinion a bit on the lecherous side but I am  happy you brought me, thank you.   I most definitely liked Aunty Amy despite her spanking me, caning me and  her insisting I start my special hormone treatment. The milk and mush worked well and helped reinforce babyhood and I love the sissy makeovers.
I thoroughly enjoyed the meal out and coffee yesterday. I actually enjoy your company. You are truly an eclectic, interesting and attractive woman.   As we discussed yesterday I am aware of the cross over between reality and fantasy especially in my case and my fantasy does require some element of forced humiliation  and  pushing my boundaries, with me having total lack of control over what is going to happen. Some of the spankings did bring me over my threshold and I was about to shout stop on a couple of occasions but did not which means you got the level just about right. My bum still tingles.
Lots of verbal humiliation on pleasing and worshiping Ladies works well for me and I fully appreciate I am right up against the boundary of what is acceptable to you and I have too much respect for you for it to be any other way.
As also mentioned yesterday over coffee, for a quiet day like Tuesday, I am happy be to treated  as a  baby all day long. So sit me on the mat with pure baby toys to play with as you do your daily chores, perhaps even in the back room as you use your sewing machine. Just insist I play and gurgle and babble nonsense with me not allowed to talk as I sit and play. Even put me down for a nap. In general once you are in the same room as me as any nanny would be with a baby. I know the punishment for leaving the mat full well!
I went to Tate Modern yesterday, had a lovely seafood linguini afterwards. Just like the club the gallery was interesting,  I think you might like it but is it Art ?? I attach a couple of photo's and I found a new apartment for you in Southwark, going cheap!
Thanks again for all the new experiences and I hope you will allow me the opportunity to visit again. Be good and enjoy life.
Sissy baby penelope pansy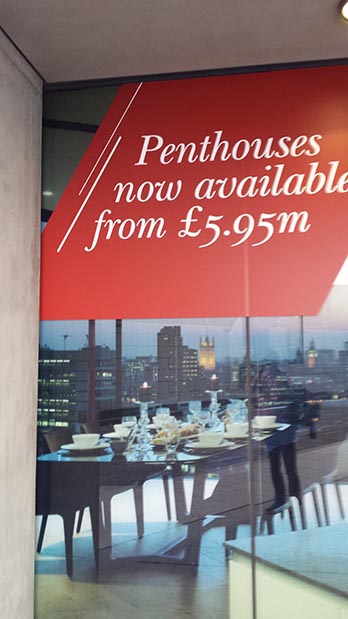 In answer to what I was looking for Penelope Pansy – my second blindfold – which I still can't find anywhere. As for getting a glimpse of my panties – if I'd have known – you'd have had even more spanks!! Lovely apartment – all glass and great views – perfect for me and exactly to my taste.
A very big thank you to sissy Suzy for the beautiful flowers and for being such a kind and supportive sissy/friend and driving me and my car home when I drank a cocktail on an empty stomach last Sunday afternoon and promptly said "it's a good job I'm not driving" – so tipsy I'd forgotten I was driving!! I am such an alcoholic lightweight lol.
Until next time – be safe, be well, be love and have lots of fun
Nanny Betty xxx