Well we are well into the lovely summer now here in the UK – I am loving it – though dare I say it – it has been a little too hot on some days. Aunty Amy and I took adult baby J out to the shops for some very mild (at his request) public humiliation last week and it was absolutely boiling as we walked along Loughton High Street. I'm very pleased to announce that we found another lockable baby changing room with a changing table where your nappy can be discreetly changed. That's really great for adult babies that don't want to be taken all the way to Lakeside shopping centre. Baby J was only comfortable with this one pic being published that barely shows the changing room but here we are – you can just about see the changing table, sink and bin in the pic – and his nice clean nappy too 🙂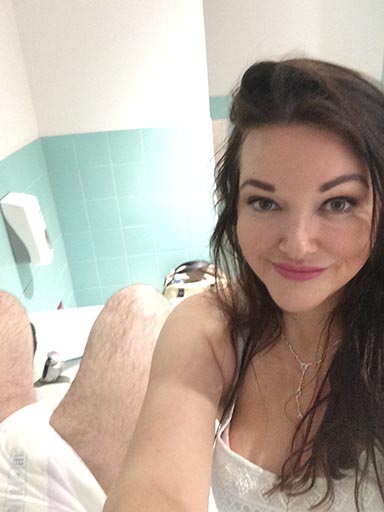 I've been continuing to try and eat more vegetables – as we all should be doing – I love Mexican food and I've discovered that many vegetables and salad items put into a tortilla wrap with a bit of salsa and guacamole tastes delicious and it's so fast and easy to make. As does red pepper hummus, cucumber and tomato too. Penelope Pansy previously said that she'll never be converted to my meat-free ways but I have managed to get a few of you eating healthier including baby Kate and baby Sophie. Here's some of my recent food pics for inspiration – the veggie egg dish on the bottom row of pics I served on lettuce: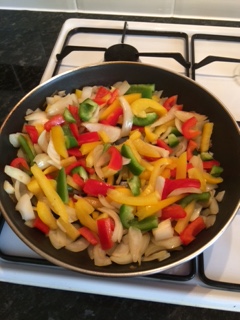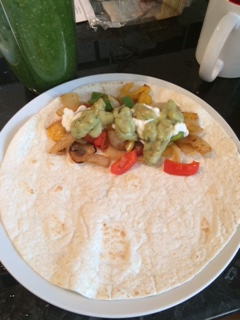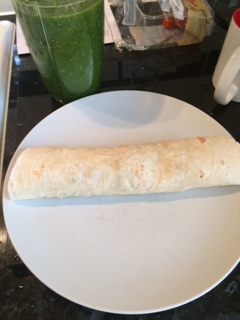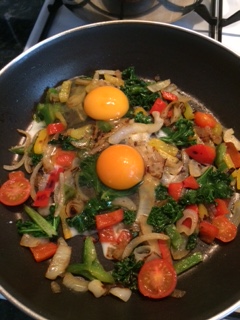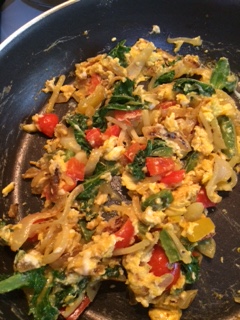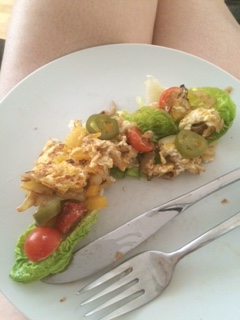 As well as trying to eat more healthily I have also been resting and relaxing much more and removed some stressful situations from my life. I can say that it's definately made a difference as my blood sugar is now the best it's been in years – and way within the healthy zone – and an autoimmune condition that I've had for 3.5 years – touch wood seems to have finally gone. No anti-inflammatories now for 2.5 weeks… yay!!! It is still early days to be celebrating but I'm convinced that for me the secret to being well is to avoid stress and anxiety, to rest, relax and eat well. To be happy!!
We can try to avoid stress but sometimes it seeks us out anyway. Two weeks ago Terry, my Chihuahua, had to have a very large growth surgically removed from his mouth. He's a devil dog at the vets and always has to be muzzled so they never manage to inspect his mouth at his regular check-ups. The morning after it was discovered, he was in for surgery however I had to wait a whole week for the biopsy results to hear if the lump was benign or serious. That was a loooong week but I am so happy to anounce that my little baby Terry is recovered and well and that the lump was a benign growth called an Epilid – which I'd never heard of. So if you have a dog – periodically check their mouth if you can.
I was chatting to a woman I didn't know and she asked me what I did for a living. I do really hate that question for obvious reasons and I found myself wondering what to say. I think I say something different every time someone asks me lol but on this occassion I said "I'm kind of a life coach, a therapist. I help people feel good about themselves." It was a spontaneous answer but when I thought more about it I realised that is kind of my life mission. Yes I'm very playful and enable people to live out their fantasies and to have lots of fun and comfort in the short-term while they are with me but I like to think that they go away from the experience with me realizing that it's perfectly ok to be an adult baby, diaper lover, TV or whatever fetish that they have. That the guilt, loneliness, shame or embarrassment they may have felt for many years is lifted from their shoulders because I truly feel that life is far too short to be feeling down about yourself for any reason. Yes of course by conventional standards it's a bit unusual or weird to want to dress-up in nappies and baby clothes or women's lingerie but ultimately, in the bigger picture of life, it's not that big of a deal is it.
In my view, so long as no-one is being harmed in any way – whatever ridiculous fun you get up to is fine. There are times in life when you must be serious but for the rest of the time – have as much fun as you can – you have my permission!!! I always try to 🙂
Below I've shared some wise sayings that I live by. Here's to playing like a child forever, to doing everything that you want to while you still can and to accepting and loving ourselves as we are all indeed awesome in our own unique way. People come from all over the world to visit me and the unique experience that I am able to offer but I learn and gain from each experience too and make some wonderful friends.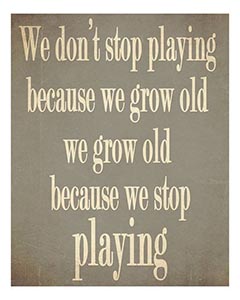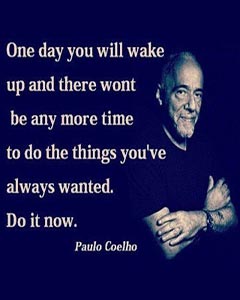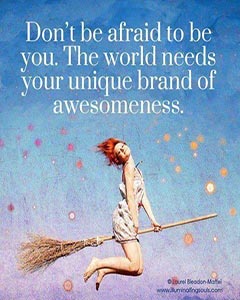 I haven't got around to finishing my noisiest in the world plastic pants yet but you will see them when I do. I can't wait to take someone out in them and see how noisy they are lol.
A new diaper lover, E, visited me this week from Belgium and as I often do I picked him up from the local tube station. He told me later that as he got into my car that his first thought was that I smelt like a 'Mummy' and that he thought that it was intentional. I laughed and said I'm not even sure what a Mummy smells like. I sprayed my perfume on his arms as he was about to head home (he wanted me to) so that he could smell Mummy during his flight. I have many different perfumes and on that day I was wearing Paloma Picasso however I wear Clarins Eau Dynamisante quite a lot when it's very hot as it's so refreshing. Plus as it doesn't have alcohol in it – it won't damage my skin in the sun. So if for some reason you can't visit me but would like to smell me – now you can test those fragrances in the department store and imagine you are with me.
Speaking of fragrance, I made the strongest Baby Powder scented candle with beautiful creamy, natural soy wax. If you enjoy high end,luxury highly scented candles I think you will love these. This one I've made in a sweet children's mug which can be used once the candle has burned away – the next ones will be in various different containers – some less obviously babyish if you are worried about what visitors may think lol. I'm making them to order and prices are £30-£80 depending on the container and size. Fragrance choices are Baby Powder or Vanilla – both lovely childhood smells. Email me if you'd like to treat yourself to a scented candle lovingly made by me in my kitchen.
Here are some pics – you'll have to imagine the baby powder scent: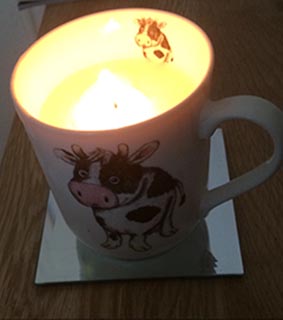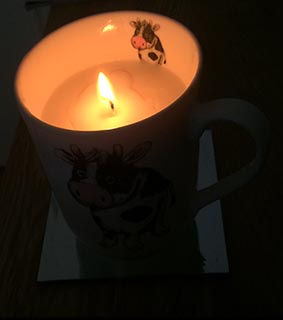 Until next time, wishing you health, wealth, love and lots of fun
Nanny Betty xxx