Wow I am loving this weather that we are having here in the UK now so much. I went outside yesterday morning at 9.30am and it was really hot and humid – such a shock – it felt like I was in another country!
I've had such a lot happen since my last diary update that it feels like so long – much longer than two months ago. There's been the election, sadly a couple of bereavements and a funeral, school friend reunions, a cough that lasted three weeks, a severe allergic reaction at the beauty salon that is still mildly stinging, some fun day trips out, some lovely long visits by adult babies and some creative courses.
Last weekend I attended a candle making course along with about 70 other ladies. It's something that I've always wanted to have a go at – and now I have all the kit to make high end Baby Powder scented soy wax candles. I also have a funky contact free lazer thermometer for measuring the wax temperature.
My next sewing project for the nursery is now almost finished. A pair of the noisiest ever plastic pants. Hopefully I will upload a pic of the finished pants in my next update.
I haven't had the chance to think much about my Spanish nursery however I have made an English contact in Spain that's been out there for twenty years and she has invited me to stay with her. You never know I might end up hiring her as a babysitter!
This week I went to Hampton Court Palace with sissy baby Pauline. The weather was beautiful and both of us hadn't been there for many years. We had fun getting lost in the maze – my sense of direction isn't one of my strengths or Pauline's either lol. I also admired a beautiful swan and after taking it's pic I cheekily (and very cautiuously as Swans are huge close up) stroked it's back feathers when it had it's back turned to me. Pauline and I then sat on a nearby bench to admire the fountain and the garden view and the swan decided to creep up behind where I was sitting and then took a sneaky (but very gentle) peck at my head as if to have the last laugh on me. I love it when animals interact with me like that – so long as it doesn't hurt. Here's some pics – though I didn't get the actual head pecking moment: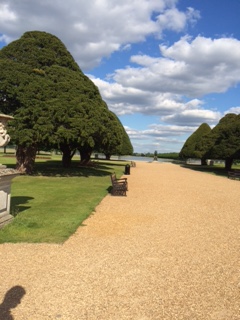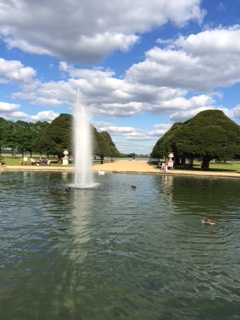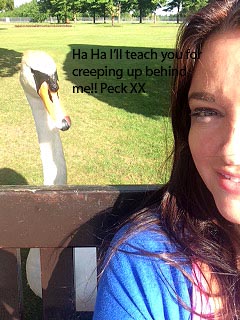 The first pic shows Hampton Court's formal gardens from a distance as we walked towards the fountain. Successive pics are getting closer to the fountain and the swan and the final pic is as I am about to be 'attacked' from behind. I was ready for it as the swan was pretty big and noisy trying to hide behind me lol.
Here is the next instalment of Penelope Pansy's story Part 10. It is her FANTASY only, is very explicit and involves bisexual activities, caning and forced infantilism.
Sissy baby Pauline looks so respectable when fully dressed as a TV but then when I force her to reveal what she's wearing underneath – her slutty fantasies all come out. When I put her to sleep for the night in the cot I put her in a thick, overnight nappy and sissy nightdress with a dummy gag and mittens – I can sleep soundly knowing that she can't get up to mischief with the boys. Here's the latest pics of sissy Pauline – in the first she is stroking my doggy Terry and you will notice that in the second and third pics her wrists are bound behind her back with some new restraints that Pauline kindly gave me.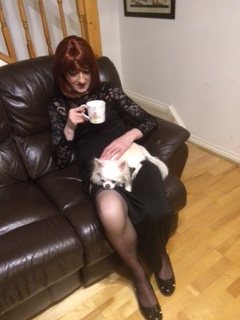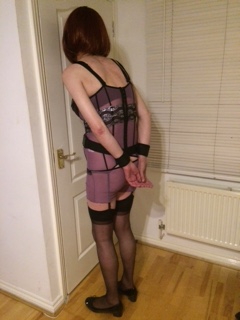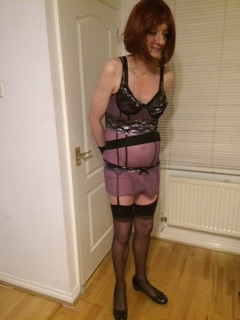 I have also replaced the cot wrist and ankle restraints with new comfy, padded leather straps as the old ones were disintegrating from locking up so many naughty babies over the years!!
My final pic of the day, taken the other night, is a little surprise for my silly little baby in Scotland and for any other AB's out there that think I might be too sweet and soft – be warned – very strict is never far away and be a good baby and do as I tell you!!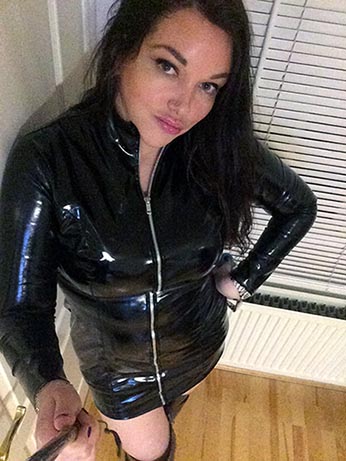 Until next time
Nanny Betty xxx