I have been having some fun outings and delicious meals out lately. I went to see Phantom of the Opera at the theatre with my son – poor thing he must need therapy now as he was asked for the second time recently whether I was his wife lol – a great compliment to me. I've seen the Phantom film about three times and this was the second time seeing the show. I still love it!! I think like Marmite it's probably a love it or hate it – this is my favourite song – though out of context of the play it's not the type of music I'd listen to. Strangely a few years ago when I first saw the show I said I'd have chosen the Phantom – yet this time around I saw him as a psycho murderer and would have chosen the Viscount. Fickle women and their feelings lol.
I went to The Churchill War Rooms with adult baby Kate during her recent visit which was interesting as I'm a fan of Churchill and particularly his witty retorts. Baby Kate from Holland was the first adult baby to try out the new mat I recently made. It's larger and thicker that the changing mats I usually buy from CozynDry and works well as a play mat. It was fun making a unique item for my nursery and there will be other things to follow as I get time, inspiration and new skills. Here's a pic showing baby Kate on the new play mat and also in front of Westminster and Big Ben on our day out and also a pic of adult baby Amanda looking very sweet: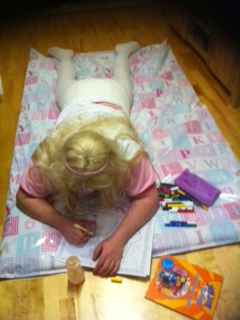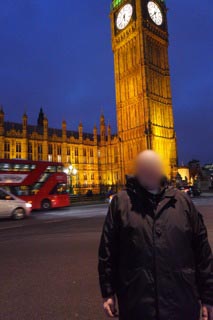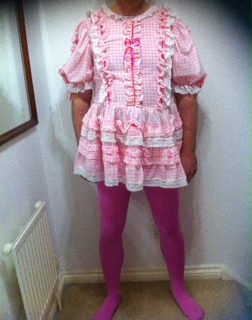 I went for a pre-theatre meal with sissy baby Pauline at The Porcupine – the Vegetarian Wellington I had was so delicios that I decided to recreate it at home today – see pics below – the first pic shows it just before I sealed up the pastry and the second pic shows it just before I ate it! If I particularly enjoy a dish at a restaurant I enjoy challenging myself to make it just from the memory of the taste – sometimes it doesn't work but often it does. This dish included roasted vegetables and goats cheese and turned out yummy. Sadly The Play That Goes Wrong was not to my taste at all – but sissy Pauline loved it and as it was her birthday I'm so pleased.
In pursuit of excellent health and longevity I have bought myself a Nutribullet. Supposedly a 'nutrition extractor' – superior to a normal blender – that breaks down the cell walls of fruits and vegetables so that your body can absorb all the goodness. It certainly does do an excellent job and there's no need to pre-mill flaxseeds – which I used to do in a coffee grinder. Here's a pic of one of my healthy smoothies – 50% fresh raw kale, apple, blueberries and flaxseeds. It looks funky but certainly doesn't taste horrible and I did seem to sleep much deeper on the days I had one – I still have to start the day with my favourite cup of tea though – some vices must persist lol.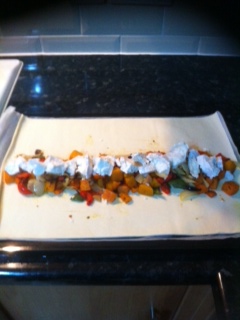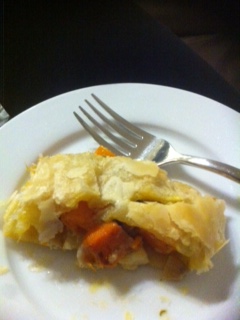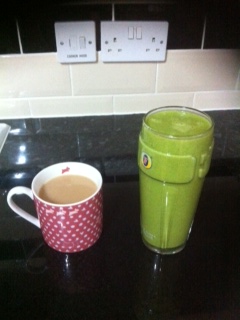 I've been addictively playing The Sims on my Ipad for absolutely ages now – I created my family, myself and many of the people I love and took great care of them daily making sure they were fed and well looked after – weirdly feeling that it kept everyone safe in real life. Well I did wonder how I was ever going to be able to stop playing but never anticipated that they would all get old and that the grim reaper would take them one by one. It has indeed turned out to be not fun any more and I can see how people pay real money to keep their characters alive for a bit longer. I intend to let the grim reaper take us all and my game and daily responsibilities will be ended soon.
I went shopping at Westfield shopping centre at Stratford and bought some new lingerie for myself at Victoria's Secret. Such a lovely shop filled with beautiful things and many beautiful women – for those of you that enjoy public humiliation – how about wearing one of my new babyish t-shirts below and me dragging you around Victoria's Secret.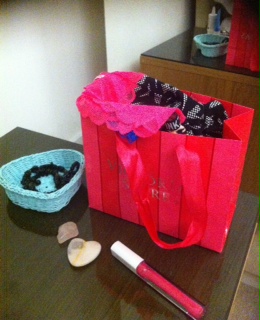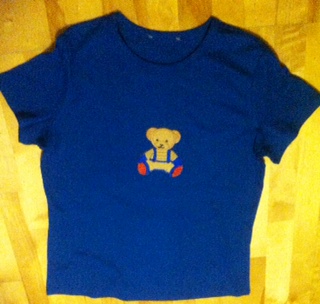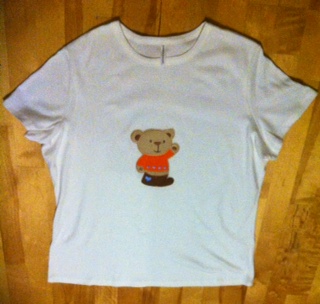 Here's another story instalment by Penelope Pansy – Series of Firsts Part 8 be warned it has adult themes and may offend some adult babies – her fantasies involve my handsome fiance and forced 'interaction'. Another instalment next time.
I went to see Fifty Shades of Grey at the cinema last week. Despite the bad reviews I enjoyed it – obviously very tame for me with my background but I was as much interested in the cool styling! I think there were only one or two men in the whole cinema – I've never experienced that before. A great place to meet women!
Here's an email to me from adult baby Louise after my last blog update:
Dear Nanny Betty,
 Your comment in your latest diary entry about ABs 'enjoying' an element being forced to wear nappies certainly rang a bell with me.  I think that it is probably a way for us to pass responsibility for what we are doing from ourselves on to another person.  Being and practicing being an AB is very much a minority hobby and is not something that we would usually discuss with friends and family.  We therefore probably feel a little guilty about having the desire to dress and behave as babies in the first place and a little more guilty when we come to put our desires into practice.  Any sense of guilt can be avoided if we are forced to wear nappies, etc. by Nanny.  We have no choice in the matter and have no option but to obey.  From that point on Nanny is in control and we have no further say in the matter.  If Nanny decides that a firm hand is needed and/or the visitor to the nursery has to wear the full baby clothes outfit then so be it.  All we have to do is accept the situation and go along with it; the object of the exercise in the first place
I think that for me, a visit to Nanny without this element of being forced to do as she decides would be a bit on the bland side and lacking "edge".  The first wet nappy could be considered as an act of defiance and dealt with accordingly.  Subsequent wet nappies are acts of compliance indicating that baby Louise has accepted the situation fully and knows that Nanny is in charge.
I expect that your AB visitors will all have different comfort zones and "no go" thresholds and I am sure that you would not in fact physically "force" them over that line.  For example, I would be happy to accept the involvement of a female third party, either acting or watching an AB scene, but I would draw the line at going public in any way.  Going out in public dressed as an AB or cross dressed is a "no way" scenario for me – and it would probably frighten the horses!  You can be very persuasive but I know that you would never force an issue.  Nevertheless you have taken me over some thresholds that I did not expect to cross even if they were much smaller steps and were crossed in private.  (I remember saying on my first visit when I was scene setting saying quite clearly that I was not into being a submissive, and meaning it, and finishing up seated on the floor in front of you kissing your stockinged feet.  You did not have to say a word.  It was just the force of your personality made it seem an entirely natural thing to do.)  
If you include all or part of this in a future blog you could ask your ABs for their feedback on what their particular thresholds are and whether they have unexpectedly crossed any that they had previously considered uncrossable.
Yours obediently
Louise
xxxxx
PS  Your Spanish venture sound exciting.  I rather doubt if I will ever be able to take advantage of the facility – but one can dream!  All the best
I got a surprise to see that my bin bags had a message – I share it with you today and also a pic of me cosy in my warm hooded coat while on a walk in the freezing wind with sissy Pauline and Terry (my adorable doggy):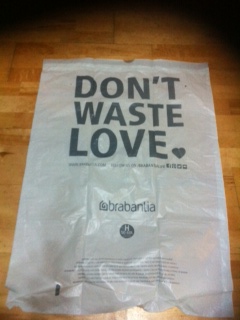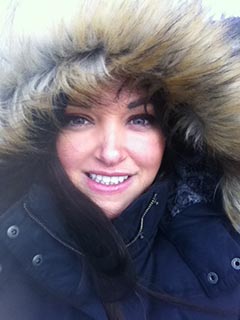 Be safe, be happy and don't waste love.
Nanny Betty xxx