Since getting my great medical news last month I've heard from several people facing serious health problems – I won't say their names – but my love, healing vibes and best wishes go to them all.
I'm so pleased to say that I am feeling the best healthwise that I have in a long time. I am getting back into hobbies I'd let slide. I went on a one-day dressmaking course recently and now have the confidence to get my sewing machine out and have a go. My first project is a new changing mat for the nursery – I'll show you a pic in my next update. I'm also getting back into cooking – I made a yummy vegetable korma last night – all part of me trying to eat more vegtables in 2015. It sounds strange but curry sandwiches are delicious! I've started exercising again and to keep things fun I've invested in some pretty dumbbells and colourful ankle weights.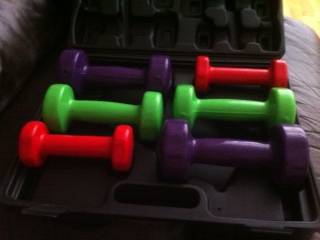 My dream is to live in Marbella, Spain part of the year – having AB's visit from around the world, learning to design and make my own AB clothes, enjoying the sunshine, cooking, exercising, playing computer games, reading and spending time with the people I love. I am hoping to set up a second nursery in Marbella this year – I will keep my current one in Chigwell and travel between the two. I will make it clear where I am at any time and you will be able to visit me at the nursery of your choice. I have lots of things to sort out yet but I've found an apartment that I like and I may have a test month in Spain very soon. I will be taking bookings soon. I am very excited about it and can't wait 🙂
Here's a story written by adult baby Penelope Pansy – there are more to follow including prequels. In this story there's a bit about being fed and changed on the beach – maybe what I will get up to in sunny Spain!
Finally here's a pic of the new white satin romper that baby Kate kindly bought for me last year. I kept forgetting to ask someone to model it for me – here it is modelled by adult baby Buttons – the AB that I control by 'blackmail'. Of course I also have another version of the photo showing his whole face should I ever feel the need to enforce my control and power over him 🙂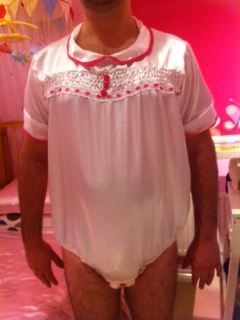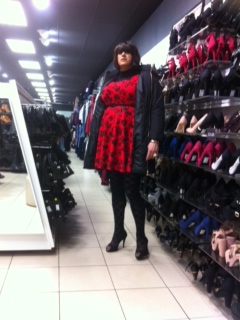 It's actually fairly common for ABs that come to see me to enjoy an element of being forced to wear nappies or even a bit of public humiliation – and I do excel at and love role play. Adult baby D can be seen here fully dressed in New Look – wearing fashion tights, female clothing, make-up and a wig as well as two very thick overnight disposable nappies and a thick terry nappy and plastic pants over the top of that. The trouble is that baby D does the most enormous wee-wees ever and despite each nappy absorbing up to four litres – TWICE – her nappies have leaked and she has made a big puddle on the floor in the shops just as she was about to buy some shoes. Obviously we have had to leave before she can purchase the shoes as it's not acceptable to pee all over the shop floor! Baby D actually looks very good when we go out however she does attract a lot of stares as even without the heels she is about 6'4″ and quite large built.
I bought myself a new doormat – I always thought the Welcome ones were somewhat cheesy but a bit of fun. I also had to replace my tumble dryer and have upgraded from a Bosche to a Miele – silly but I find it quite exciting when the internal light comes on. Baby Sophie just can't understand how I can get excited by laundry appliances lol but I always have. I had a toy washing machine, iron and ironing board when I was five and loved them – washing my dolls clothes daily. I also had a Tiny Tears doll that I used to feed a bottle of water to and I loved how it would then wet it's nappy – so I guess that's why I now feel like my 'work' is just playing and I've been playing a long time!!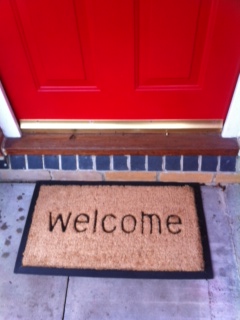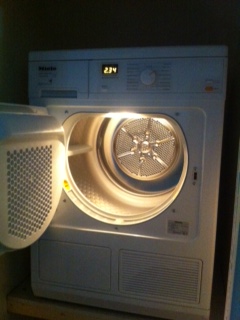 There's a pic below of me with Adult Baby P and some of him in the nursery. AB P – I hope 2015 is a much happier year for you too.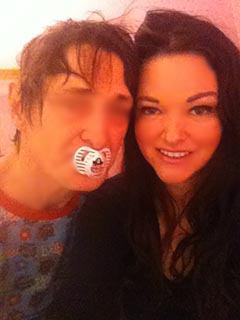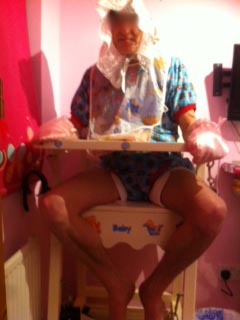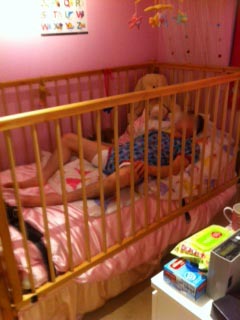 You might need to zoom in to read it on the photo above but while playing the Sims I was amazed to see that when choosing a life dream for one of my characters, which I'd already made a geek, there was a choice of 'I want to dream of a zombie apocalypse every day'. How funny after what I'd said about myself in my last blog – I guess that officially makes me a geek. I am now towards the end of the fourth sesries of Walking Dead and loving it – but warning – it is a bit gory if you are eating your dinner lol. AB Kate has now started watching it and said she understood now why I bought a crossbow 🙂
Letting my geek side show again I am truly excited about the Occulus Rift and can't wait to get one. It would be great if I could make some virtual reality programs so you could visit the nursery even if you can't actually visit me in real life. With the technology it doesn't have to stick to reality and I can appear to be much bigger than you as I change your nappy 🙂 If anyone out there can help me get some done – contact me. I'm sure it's a bit more complicated than just using two cameras at the same time. If you don't know what I'm talking about watch this link.
Ive been listening to this song this week – I love the video as it's so happy and I'm sharing it with you as we all need some happiness and a little sugar in our life. Hope you like it
Until next time
Nanny Betty XXX