Happy New Year – I hope that 2015 is a really happy, healthy and prosperous year for you. Full of lots of fun, love and all the things you want.
My update has been a while coming as I've been feeling ridiculously tired for about a week. I was also feeling a bit depressed as I was being tested for some serious systemic auto-immune diseases. I am a big worrier when it comes to these things and although I of course hoped I was fine – I was terrified that I might not be. I had a maybe 50% chance of the results being bad and I guess the tiredness was my fear and worry bearing down on me. Well tada!!!! Super great news – I just got the all clear on my blood test results and I AM SO HAPPY!!!!!! I celebrated by eating a big box of chocolates that my uncle gave me for Christmas – in fact I feel a bit sick now lol but in a good way.
Life isn't always easy and does occassionally have it's scary moments and I am very grateful for the many times I get the best reesult I could hope for. My heart goes out to the people that didn't get the lucky break.
I had so many lovely, generous Christmas and birthday presents as well as cards given to me – so lots of big thank you's to the following below – please forgive me if I forgot to mention you or got the gifts wrong as while tired and worried I was very forgetful:
Adult baby Louise for the beautiful flowers, plant and luxury chocs. Adult baby Kate for the huge pack of pressies from Holland including perfume, my favourite naughty sweet and savoury snacks, a dummy gag for the nursery, lovely toiletries, a fridge magnet, treats for Terry and a wish card. Adult baby Sophie for the beautiful Christmas flower bouquet and money gift, Silly baby J for the generous money gift, Sissy Suzy for the wine, lovely smelling bath gel and the strangest birthday gift ever – a luxury, soft close toilet seat lol – Sissy baby Pauline for the Next gift card and pressie for Terry and baby Dan for the yummy hamper.
For my birthday gift to myself I bought myself a small crossbow which may be used safely indoors – my extended family had lots of fun at my birthday get-together on NYE as we all praticed target shooting with the crossbow. I have seriously been watching too many zombie apocalypse series as I'm getting ready for them lol. In a very silly mood we even shot each other in the hand – it hurts but not that much.
Sissy baby Pauline came to visit me just before Christmas – she is such a naughty TV girl – always wearing saucy lingerie so she can tease the boys. She gets spanked and put to bed in a nappy. Here's some pics of her: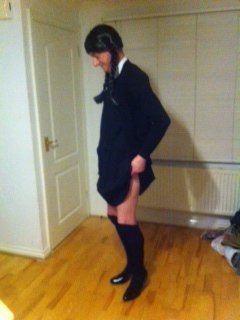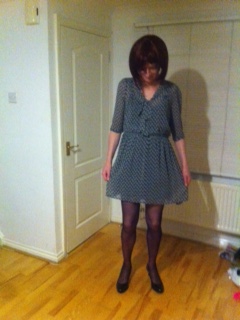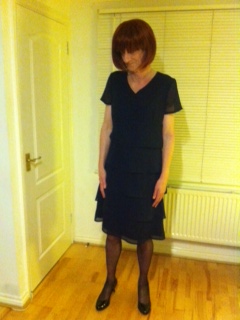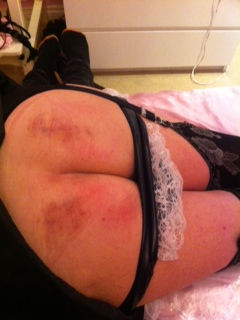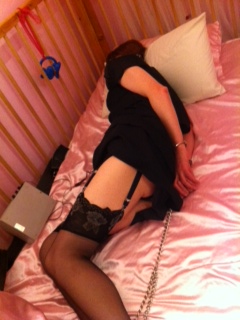 I hope that you enjoyed the pics of sissy Pauline – as you can see she ended up with a sore bottom but she must enjoy it as she keeps being naughty!!
Now to give Sissy Pauline some competition – this time I have some saucy pics of Sissy Suzy – who also likes to dress up as an older girl – she also has a red, spanked bottom – which she loved – and if you look closely you'll spot her panty pad – which she likes to wear if she's not wearing a nappy: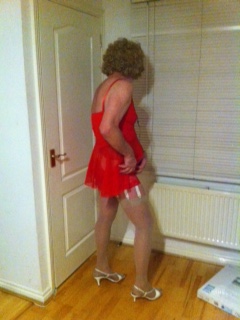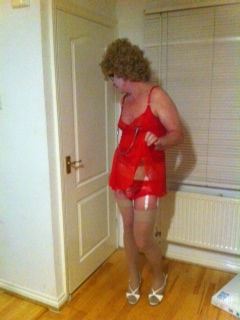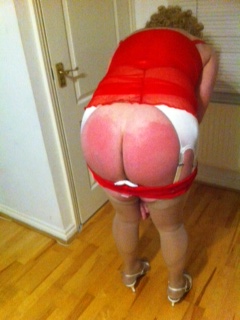 Here is a review written by lovely adult baby Lucy that visited me some months ago. He is almost blind so I especially appreciate the great trouble he took to write this for me. I hope that you enjoy reading it.
Until next time
Nanny Betty xxx