Wow I cannot believe how fast this year is going – before we know it – it will be the end of the year – and my birthday again on NYE. Money no object, I would have loved to be spending my birthday in a top night club in Las Vegas with my family this year on my birthday however it's not their dream way to see in the new year so I will have to think of something else. Also NYE happens to be the most expensive day/night of the year to do anything which does make it a bit of a pain birthday to organise anything.
I've had some lovely new people visit me since my last update as well as my favourite regulars. I had fun challenging AB Kevin to twerking in his thick, heavy nappy after he'd said that he could do it. If you don't know what twerking is look it up on Youtube and imagine doing it in a heavy nappy! He actually did manage a good job of it.
AB Simon and I had a fun visit to Southend and AB Steven took me shooting which was fun.
Australian AB Phillip is about to have fun visiting Cambodia – I do wish I was going too and Dutch AB Kate is having a great adventure visiting Japan at this moment. It looks like a beautiful place though I'm not sure I'd find anything to eat there given my fussy food rules – no meat and no raw fish.
Australian AB Phillip has a onesie addiction – he loves them so much. I asked him to count how many onesies he has and to take a pic of his ever growing onesie moutain – a whopping 77 in total at this time – though I'm not sure I can spot the olympic one I contributed – here a pic of onesie mountain as it currently stands: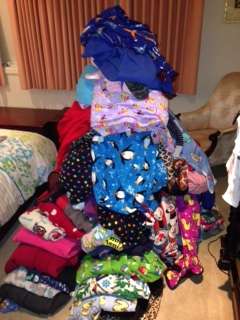 Australian AB Phillip did very kindly send me a sweet email to publish here after his last visit – here it is:
Dearest Mummy
Just wanted to say a massive THANK YOU for the 3 night stay I had with you just now at "Onesie World" lol. Everything was perfect…. Lovely cot to sleep in, lovely food and drink, lots and lots of nappy changes, variety of clothes to wear, and best of all…. The company was BEYOND PERFECT!!!
It's so nice to come all the way from Oz and have such a loving, caring mummy to come and see. As you know I don't get the chance to see you as much as your local babies, but every second we shared together was so worth every penny.
I can't think of enough superlatives to describe how much I enjoyed my stay with you. You are the best Mummy in the world and I can't wait to make the journey to England again very soon to see you (even if it's in economy class lol). 
Yes I did shed a little tear in the car when I drove off today… But I know you are always close by and its always lovely to hear from you (even if it's at 3am lol) You put a big smile on my face all the time and I love that 🙂

So once again, a huge thumbs up for you and what you do and the way you apply your craft… I was the happiest baby in the world in your care 🙂 🙂

Lots of hugs and kisses

Baby xoxooxoxoxooxoxoxoxoxox
AB Sissy baby Pauline has been back and as usual was caught wearing saucy lingerie under her respectable dresses. Pauline is slightly more TV than AB though she does enjoy wearing thick nappies and plastic pants to bed and when we go out and about.
Here are some pics of sissy baby Pauline – the lovely PVC Maids outfit is hers: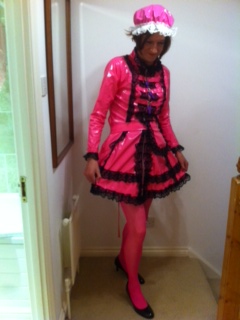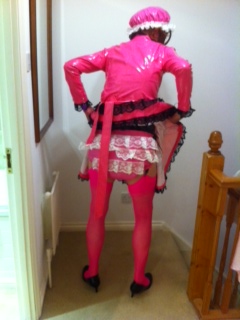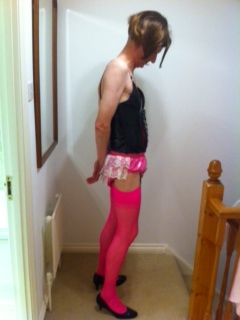 I still haven't got around to taking any pics of the new white satin romper sent to me by dutch baby Kate – I keep forgetting – I need a slim AB that doesn't mind being a model. I also have two new plastic rompers – one pink and one blue – so hopefully pics of those will follow soon too.
In the meantime here is a pic of adult baby Buttons – he has a fantasy that I will control him by blackmail and force him to wear thick noisy nappies 24/7. Well I've been very kind and cropped off his face – he does look very cute in his nappy – but you never know – next time I may reveal more – unless he does as I tell him to! I do love having the power to make people's fantasies come true.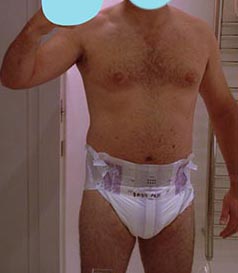 I have some new AB stories for you in my next update and I promise it won't take me so long next time.
Have lots of fun
Nanny Betty XXX