I hope that you had a lovely Easter. The weather has certainly been lovely here in the UK – though I did put my heating back on again tonight as it's suddenly a bit chilly. This year was the first year ever where I didn't give any Easter eggs to anyone or eat any either. Everyone is trying to lose weight so I thought I'd save people from temptation.
Baby Kate visited me from Holland. We went on some fun trips together including the Duxford Air Museum – here's a pic of me on Concord – I never did get to fly on Concord – shame – and a pic of baby Kate posing in a pink wig in my bathroom and dressed in male clothes but with a thick nappy on underneath at the Duxford Air Museum: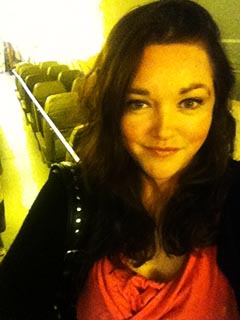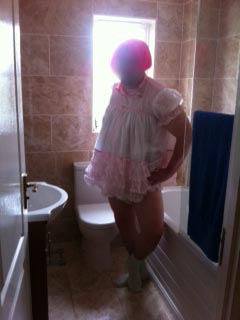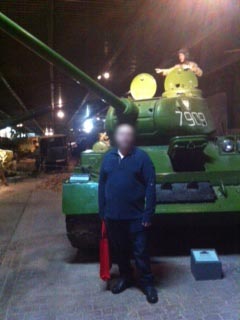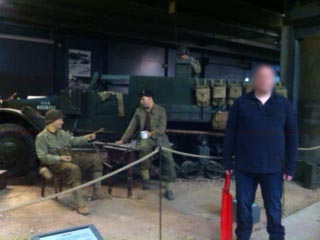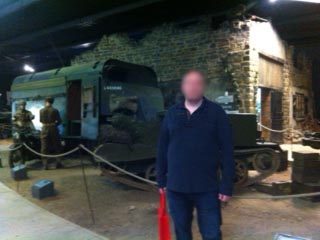 Baby Kate seemed to find the story of the pony at the zoo biting my arm when I stroked it funny and gave me a picture she'd drawn. The picture is funny so I thought that I'd share it with you – however the bruise from the bite wasn't funny – as you can see. Of course baby Kate got the suitable hard spanking she was trying for with each of my new spanking implements!!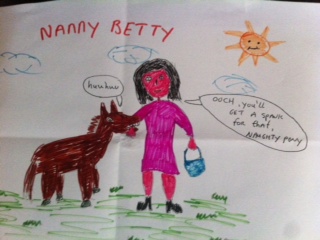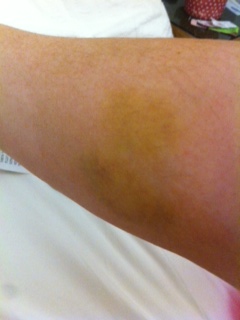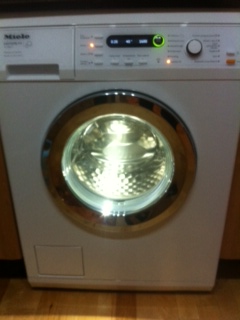 My washing machine broke down recently so I treated myself to a top of the range Miele one at £1,500. It's the first washing machine I've had that has a light in it and I really like it. I am a bit of a clean-freak and actually enjoy doing washing and cleaning which is a good thing given the amount of nappies and baby clothes I have to wash. Visitors to the nursery can be confident that all clothing, bedding and towels are always clean and fresh.
Here is the English translation of the review written by adult baby Kate as promised last December:
TRANSLATION VERSLAG NANNY BETTY
After having fantasised about it for a long time I, as a diaperlover / adult baby, took the step en visited a real nanny / babysitter for adult babies.
At the airport i was picked up by nanny Betty. A nice looking and friendly women with long black hair. She made me feel at ease very quikly.
Once we arrived at her nursery, i was directed to a pink childrenroom.
In the childrenroom there was a highchair for adults and a big cot / childrensbed.
I had to undress an lie down on the chanchingmat. With lots of care i was put in a nappy. The next days i had to spend in a nappy for 24/7.
I was taking good care off. When i was naughty however a severe spankinng would follow.
We also went to the city of London together. Of course i was wearing a thick nappy package.
On night i even went, dressed as an adultbaby, with nanny Betty and aunty Amy to a childrens playground.
After my visit i went to visit nanny Betty a couple of more times and always had a lot of fun.
Nanny Betty is the best sitter for adult babies / diaperlovers.
I therefor sincerly recommend her.
Adult baby Philip visited me for the second time – all the way from Australia. We had some lovely trips around Essex including a visit to Southend-on-Sea and we went on the little train on the longest pier in the world. Here's a pic of adult baby Philip relaxing in the cot and on the pier train: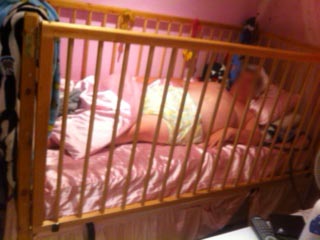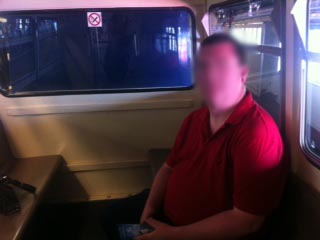 We had delicious fish and chips for lunch while sitting on the pier wall at Southend and on another day we visited one of the oldest pubs in the UK – around 1,000 years old – as people were much shorter years ago the doorways are too low for baby Philip!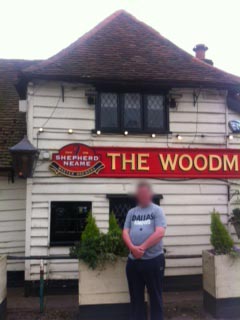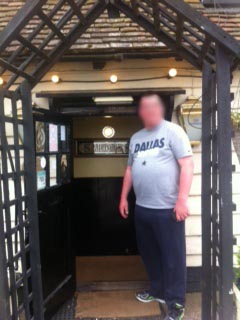 You can see how lovely and sunny it was. Daily activities can be indoors or out and about during a long visit to the nursery. Of course, nappies have to be worn at all times whether indoors or outside.
A big thank you to adult baby Sophie who kindly did some electrical work for me. Here's two pics below of her dressed as both a 'big' girl and a sweet sissy adult baby.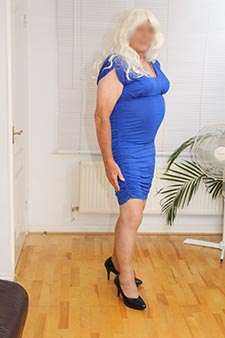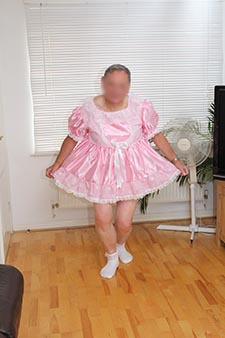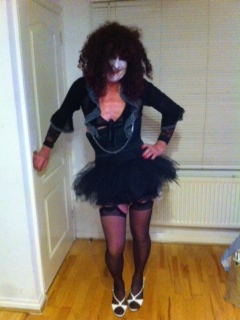 A big thank you too to Sissy Suzy who kindly collected a heavy item and did some building work for me. Here she is above in the third pic – showing her stocking tops!!
My Norwegian adult baby Diaper Slave C is currently very poorly in hospital – please send him your love and healing thoughts.
I have ordered some new clothing items and will include pics of them soon once they have arrived. In my next update I have a new story for you – until then.
Lots of love
Nanny Betty XXX