Merry Christmas! I hope that you are enjoying the festive season. Less than 24 hours until my birthday on NYE and it's almost the end of 2013! It's certainly a funny day to have a birthday – last year I went out clubbing on NYE but as I've just come down with a cold I think I will have a quiet night in this year with family and friends.
The great news is that our days are now getting slightly longer each day – yay.
I would like to say a big thank you to sissy baby Pauline for the Boots gift voucher and sissy Suzy for the Clarins body lotion and pink Champagne, baby Sophie for the canes punishing device, adult baby Louise for the lovely chocolates – yum – pink Champagne truffles – and also for the red Amarylis plant – it will flower in a few week's time. Below is a pic of the luxury chocs from Louise and me opening a parcel of lovely Dutch goodies from baby Kate all the way from Holland – even some chews for little Terry – a big thank you! I doubt that Kate realised that the stamps on her parcel would make me snicker. I'm sure it's not just me that finds Fanny, Willy and Dick a bit rude!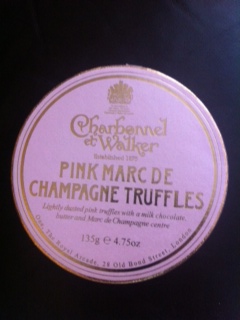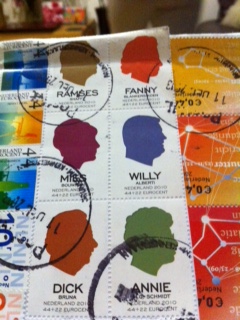 Here is the rewview from adult baby Kate written for me in Dutch for all those AB's and DL's in Holland:
VERSLAG BEZOEK NANNY BETTY
Na lang er over gefantaseerd te hebben heb ik, als luierliefhebber / volwassen baby, de stap genomen en een bezoek gebracht aan een echte nanny / oppas voor volwassen baby's.
Op het vliegveld werd ik opgehaald door nanny Betty. Een mooie en vriendelijke vrouw met lang zwart haar. Ze zorgde ervoor dat ik mij heel snel op mijn gemak voelde.
Eenmaal aangekomen bij haar nursery, werd ik naar een roze kinderkamer gebracht.
In de kinderkamer stond een kinderstoel voor volwassenen en een groot ledikant / kinderbed.
Ik moest me uitkleden en gaan liggen op het verschoonkussen. Met veel zorg werd mij een luier omgedaan. De komende dagen moest ik 24/7 in een luier verbrengen.
Er werd goed voor mij gezorgd. Wanneer ik stout was volgde er echter flinke billenkoek.
We zijn ook samen de stad Londen ingegaan. Uiteraard had ik een dik luierpakket aan.
Op een avond ben ik zelfs, gekleed als volwassen baby, met nanny Betty en tante Amy naar een speeltuin gegaan.
Na mijn bezoek ben ik nog meerdere keren op bezoek naar nanny Betty geweest en heb altijd veel plezier gehad.
Nanny Betty is de beste oppas voor volwassen baby's / luierliefhebbers.
Ik beveel haar dan ook met oprecht aan.
I do have the English translation but I'm going to let you try and work out what it says first before I give it to you lol. Not a chance for most English people!
My Norwegian diaperslave C has been poorly and had to go to hospital on Christmas day – lots of love and healing being sent your way from Mummy. Diaperslave C gave me some more of the lovely Norwegian heart shaped chocs – yum – I must stop eating chocs as they are making me fat and two Father Christmas figures and a Christmas tablecloth. I promised to give some details of my trip to Gran Canaria with diaperslave C – amazing but already it feels like ages ago.
Diaperslave C's biggest fantasy was to have his wrists and ankles spread wide and his legs suspended while I change his nappy. Well I do try my hardest to make people's dreams come true so I bought some metal, lockable wrist and ankle spreaders to take with me. Along with gags, blindfolds, plastic pants, handcuffs, bottles, adult nappies, ropes and dummies – it was a little bit scary going through airport security each way. But heh – I'm not an easily embarrassed lady and I'd checked – none of it was illegal – so what could they say? As it turned out – there were no problems at all.
I had the ultimate in job satisfaction when Diaperslave C told me that was the happiest day of his life – having dreams he'd been thinking about for many decades – come true.
Below is a photo of the swimming pool at his apartment (I had my own apartment)- it looks so lovely and Diaperslave C wearing a nappy and plastic pants on his balcony and him restrained on the bed with his wrists and ankles spread wide and his legs suspended while dressed in a very thick nappy and plastic pants.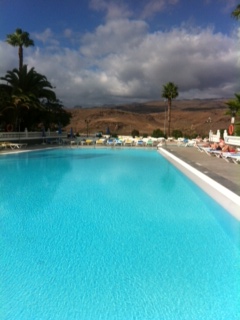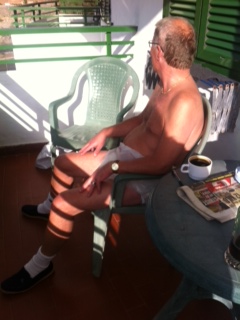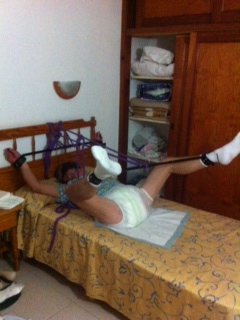 It was lovely and warm in Gran Canaria with much longer, brighter days than the UK – so nice. We went for lots of tasty meals and Diaperslave C took care of everything for me. He even booked a whole coach just for me alone for my return journey to the airport (by mistake) – that was funny!
Diaperslave C was made to walk around the resort all day and night with stockings and suspenders and a thick nappy and plastic pants under his regular clothes which he found scary but fun.
As a special Christmas treat here is a mini-film of Norwegian diaperslave C in bondage in Gran Canaria – click here to watch.
I don't do that to all of the adult babies or diaper lovers that visit me – the bondage was his request and his fantasy come true!
That's it from me for 2013. Have a lovely New Year's Eve and a fantastic 2014.
Speak again next year
Nanny Betty XXX