I was very disappointed to find out that the two storey extension that I REALLY wanted on my house is not possible as I would not get the planning permission as my house is terraced. I didn't accept it when the first builder said no and I sought a second opinion – only to be told a definate NO! Such a shame as I had envisioned it in my mind and it was beautiful.
Sissy baby Pauline lived up to her usual slutty behaviour and was caught(again)wearing sexy lingerie under her school uniform. She very kindly gave me a gift of two new spankers and her naughty bottom was then used to test them. The black spanker is quite harsh but doesn't tend to leave bad marks behind – excellent for those adult babies that require a good spanking but need to be discreet. We both had a great time at the M People concert – they sounded as good as ever!
Here's some pics of Pauline, the new spankers and Pauline's punishment lines: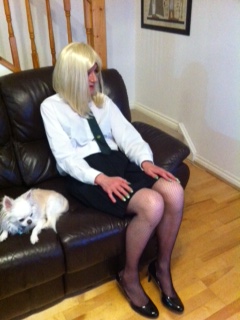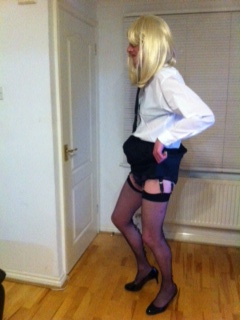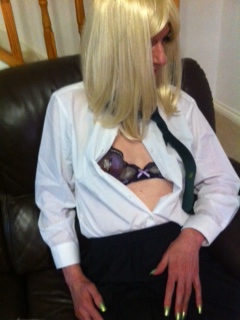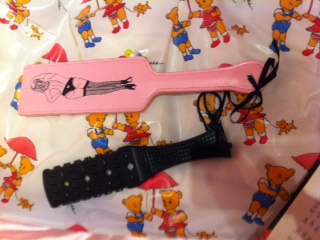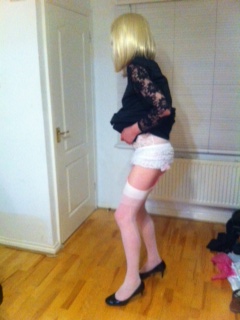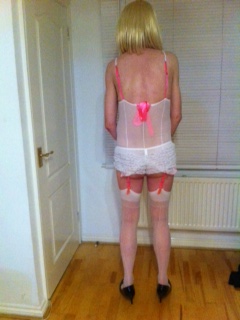 Thank you to baby Kate for providing some text written in Dutch for me so that adult babies in Holland will be able to read about my nursery. I will be adding it to the website very soon. More big thank you's to silly baby J for the £100 birthday gift – which was spent on a beauty treatment treat, to baby Sophie for the lovely flowers and huge wooden paddle and to baby Stevie for the lovely flowers and the tons of baby food jars – always very handy!
I managed to get through customs fine on my way to Gran Canaria and on my way back home despite having a case packed full of adult baby clothes, plastic pants, gags and restraints. I shall tell you more about my visit in my next update.
Until then – keep warm and have lots of fun
Nanny Betty XXX