I have been up to so much fun and mischief since my last diary update – there's almost too much to write about.
I took adult baby D to Lakeside shopping centre for some public humiliation – at 'her' request of course. She was looking fantastic and her make-up made her very pretty however at around 6'6″ in heels, huge fake boobs and a mini-skirt every single person we passed gave us a curious second look. Every session is different so even when I am doing the same thing with someone – there's alays a twist and on this day it was baby D's nappy leaking all over the floor while she was trying on high heels in New Look. Despite wearing several bulky nappies she produced a big puddle on the floor and I suggested that we leave the shop quickly and go back to the nursery for a nappy change.
Here's a pic of baby D in New Look – she had pee leaking from her over-filled nappies and running down her legs lol: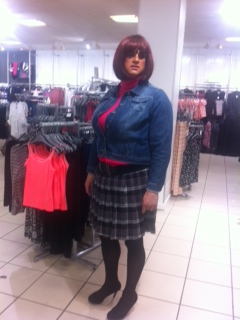 Sissy baby Pauline returned for another fun visit – we had a look around some luxury show flats just up the road – wow we both want one – they were so nice but sadly out of reach for both of us at the moment. As well as a nappied adult baby I had fun dressing her as a naughty school girl, french maid and elegant but slutty TV – a good maid is always useful and sissy Pauline always wears very pretty lingerie – see how Terry wanted to be in the pics too.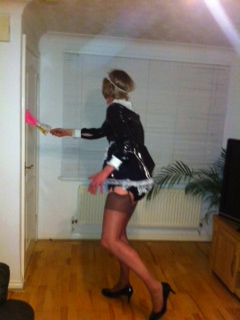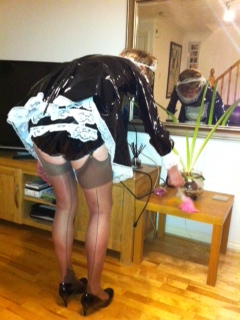 My first adult baby from Switzerland visited me – baby sissy Tamara. We also had lots of fun and some punishment too. Tamara turned up needing to go to the ATM so I dressed her up for our trip out and from there we went to the park – it was dark of course.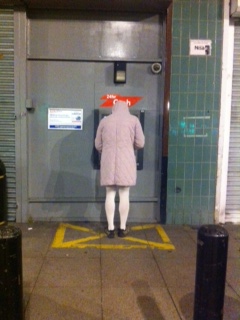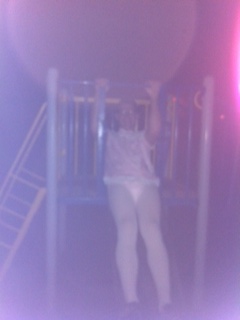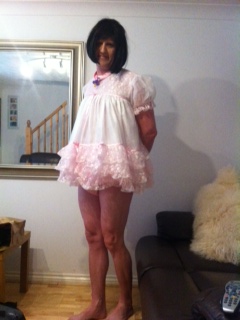 Sissy Tamara was very silly and criticized my driving – saying I drove like Mr Bean! Well, I wasn't going to take that – Tamara paid for that by walking around in public wearing a baby t-shirt and with her nappy clearly visible over her trousers. She was also made to try on a dress over her clothes in front of all the women in Primark – much to their amusement – and had her head up the smelly bin end of the public baby changing table – pooh the pong of real babies nappies was fowl – though Tamara's soaked nappy was the one on top filling up the bin and would be seen by the cleaning lady lol.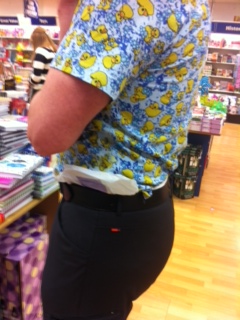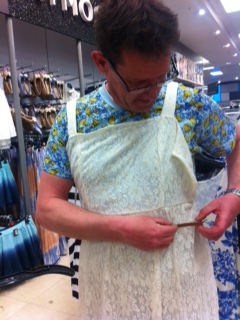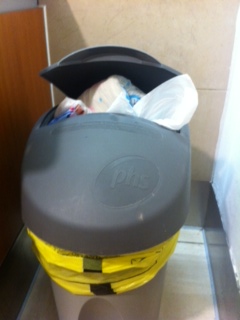 Sissy Tamara had some unforseen medical problems while visiting and couldn't ride her bicycle home to Switzerland as planned – luckily I was free and could help out – we needed to get various medical documentation and a huge box to pack her bicycle to fly it home – and to be honest with that barely fitting in my car – I was forced to drive like Mr Bean – it was very funny – all was sorted in the end and a very happy and relieved Tamara flew home.
Here's a pic of the lovely Swiss treats I received from a very grateful Tamara this morning – what a sweetie – literally. Cheese fondue, Toblerones of all colours and sizes, choccy biscuits and many different bars of chocolate – yummy!!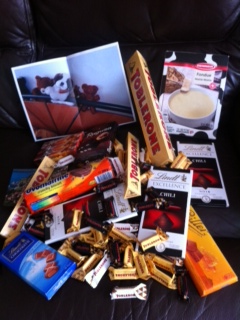 Here's an extract from an email from sissy baby Tamara after she returned home:
Dear Nanny Betty
Thank you for the pictures.
I, and I think you as well, will not forget these days in a hurry. Maybe never ever.
My girlfriend have a lot of fun with the bear you made me make. She said, he looks similar to the bear of Mr. Bean… And when I told her the story about the roundabout, my Mr. Bean comment and the punishments she laugh one's head off!
Thank you again for everything what you did for me!
Wish you all the best
Sissy Tamara
I also went to the theatre twice with 'silly baby' – who always tries to say that he's a big boy – but of course he's not – so he had to wear a nappy to the theatre. We had excellent seats and the shows and the cmpany were excellent. Another near mishap – we went to the tube station on Saturday on our way to Oxford Circus to see A Chorus Line only to find that the tube was out of service for the day. As there were no cabs available I had to drive into Oxford Circus and get us to the theatre in time – and find parking too. I promised silly baby that I'd get him there and despite awful traffic and a very tense, mad dash – we just made it. I will always do everything I can to make sure that my adult babies are well looked after and have a good time.
That's it for today – in my next update I will tell you all about my seaside visit with baby Sophie.
lots of love
Nanny Betty XX