Finally I have loaded a new pic of myself onto the Homepage and also one onto the Gallery. AB Steven kindly took some pics of me and AB Sophie is going to take some more soon. The old main pic on the Homepage must have been around six years old and it was baby Kate that persuaded me to get some more up to date ones done when 'she' visited from Holland last year.
Baby Kate visited me again recently and as I had to attend a doctors' appointment during her stay I thought I'd have a bit of fun! I told baby Kate that I was taking her to the baby clinic – she was looking very stressed as she didn't know if I was joking or not until the very last moment when I went in by myself and Kate waited in the waiting room. I did make her go into the doctors play area Wendy House though which was very funny as it was a bit too small. Aunty Amy joined adult baby Kate and I on a trip to Lakeside Shopping center – Kate was made to walk around women's shops with us wearing two very thick, bulky nappies as well as a humiliating t-shirt and as Kate had been Very naughty – she was the first adult baby to get her bottom spanked in the baby changing room! See the pics below: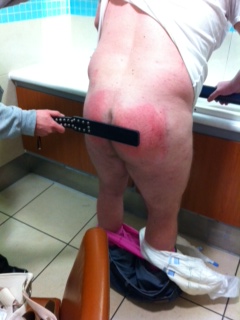 Here is the photo of adult baby Rachel with her cute angel wings on in the nursery – reserved only for very good adult baby girls!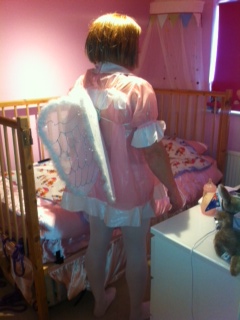 I have loads more fun visits to write about and some great pics of sissy baby Pauline which I'll be including in my next update soon.
Until then – keep safe and have fun
Nanny Betty XX