I have several people coming to see me for extra special sessions as a treat for their 50th birthdays. Clearly 50 is a big birthday and I think it's kind of funny the mid-life panic to enjoy yourself it seems to induce. It is very scary the thought of getting older but we are in the best time and place – life expectancy is rising all the time and with some dedication and discipline I am hoping we have some influence on our future health and lifestyle. I get huge inspiration and motivation from this lady – Ernestine Sheperd – she makes me fear ageing much less. So take your protein shake and put your trainers on!
Adult baby Mark came to see me. His fantasy is that I force him to marry me and then keep him against his will as an adult baby. An interesting role play and he did look so sweet as he told me he loves me and wants to be with me forever – but I was a bit of a mean wife lol that spanked his bottom after he said he didn't want to be a baby 🙂
The US recently had Thanksgiving Day and I received all sorts of emails about an attitude of gratitude. I have to admit that nowadays I tend to live every day of my life in gratitude – I just can't help but feel so thankful for my health, my family, little Terry, all the kind people I know, the roof over my head, the clean water running from the taps, the food in my two freezers, my washing machine, gas central heating, my big comfy bed, my IPad, IPhone, Internet connection, books, my huge TV and my easy to park little car and very importantly our freedom from war and free lifestyle.
I learned by chance that when you are feeling gratitude that it is impossible to feel depressed. At one time in my life almost everyone I knew was depressed and on anti-depressant medication – it's very common. The thing with depression is that it focusses inward and leads to dwelling on hurts in the past and worrying about the future – well we can't change the past and we can't control the future – hence we feel overwhelmed with no control and feel more anxious and depressed.
Great news – if we live in the present moment with an attitude of gratitude we feel happy – whatever is going on. Or if bad stuff is going on we at least feel that we can cope with it. We can plan for the future and learn from the past but remain in the present moment as much as we can. It takes practice – but I absolutely promise that it works.
Another thing I noticed by chance is that once in that peaceful place of living in the moment with gratitude – that you feel kinder and more love for the world and the people and animals in it. I can in my moments be an impatient and intolerant person – but I'm getting there on my journey to perfection:)
Baby Stevie was the first to come along to celebrate his 50th birthday. Thank you baby Stevie for the big bag of baby foods and bringing me soup as you knew I'd had a long day was so kind. Next to celebrate his 50th with a double length session is Mark – he kindly asked me to choose and order a PVC dress for myself as it's his wish that I wear PVC when he visits.
I don't mind clothing or footwear requests so long as they are tasteful. Presents are never expected or necessary but as I've had a few requests for my sizes and preferences – here they are: I am a dress size 12, shoe size 6 and bra size 36d. As for perfume I like 'Ellie Saab's Le Parfum' I also love everything from L'Occitane – their Creme Divine is one of my most indulgent daily treats – it makes my skin look lovely!
I'd like to say a big thank you to baby Sophie for the beautiful flowers and the lovely shoes – I shall tower over almost everyone in them :). A very big thank you to sissy Suzy for the palm tree – I adore palm trees and now I can look outside and pretend I am somewhere warm 🙂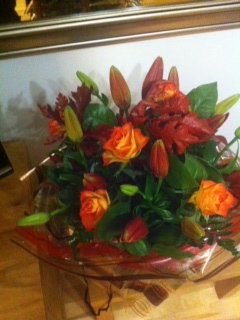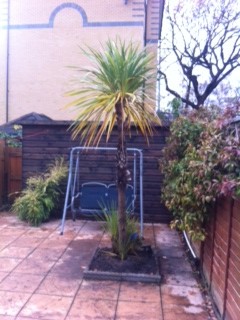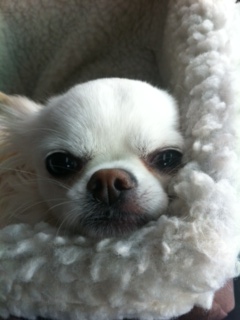 Ive also included a pic of Terry staring at me in his car seat. The car seat is high – the idea being that he could enjoy looking out of the window – however when I'm driving he just stares at me! I totally adore him and he patiently endures me kissing and cuddling him and he never gets tired of playing games – such an angel.
In these cold, grey days its essential to have something to look forward to – so I have booked concert tickets to see Muse (again) and The Killers next year. In the meantime there's Christmas and NYE – my birthday – I hope it's fun 🙂 and between Christmas and NYE I will be helping out at a homeless shelter for a few days.
I have been trying to make myself a good Blue Heaven cocktail – but they just don't taste the same as when someone else makes them for me:( I shall try again tonight. I watched the Ricky Hatton fight the other night with some friends in a bar. There was only one other female in my group and there were no others in the packed bar – I have never been in such a male environment in my life and it felt very strange. I have been planning on having a Rocky fest night for years and never got around to it – I'd love to watch all of the films in the right order. Not everyones idea of fun I know but I love Rocky!
Bye for now
Nanny Betty xx