OMG it's getting too cold for me – thank goodness for central heating – I have a relative that lives in Canada and where she is it's now -20C now that IS BAD! I can't think of anything that would make me want to live there. I certainly won't be visiting her!
I'd like to wish baby Sophie a happy birthday and as we are going to my favourite Tapas restaurant together for a meal it should be fun.
I had a new AB come for a weekend a few weeks back – baby Tom. We got on so well – it's always nice to meet new people and always nice to see my old favourites again such as sissy baby Pauline – she gave me a lovely new leather spanker which I've put to good use already 🙂
Here is a pic of Pauline's most recent visit – she is in her school uniform doing her essay on 'the things naughty school girls do that deserve a good spanking' in the high chair in the nursery. I think that you'll agree she looks quite convincing – and yes she did get a good spanking for smoking and slutty behaviour!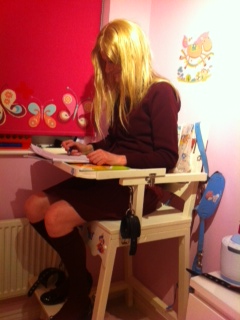 I had TV/AB Cathy visit from Holland and I gave her one of my black satin pencil skirts – I must say that she looks incredibly good in it – great legs Cathy.
Pauline has some competition in the slutty department – here's some pics from Debbie's visit – she wanted to be a slutty older girl and I took her for a walk outside and lent her my raincoat to cover her and make her more respectable – she was very happy to be admired by the drivers passing us!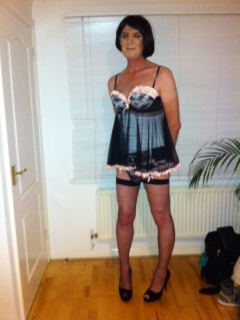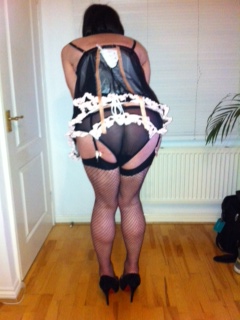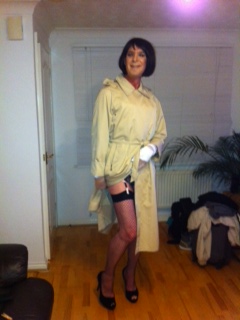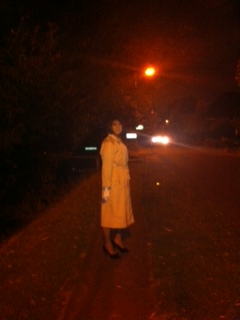 Well it's almost all been about TV's this update – I do have adult baby boys and Diaper Lovers visit – as well as the occassional real female adult baby who often prefer to be a baby boy.
As it's almost Halloween and I have always loved getting up to mischief, scaring people and doing magic on that day here's a pic I took of what I had to share my bedroom with when I last stayed the night at my uncles. It was quite creepy in the dark beside my bed lol – yes that is a life-size witch on a broomstick and a creepy butler and although I knew they were in there – I actually forgot about them as I entered the room and got quite a shock! I won't comment on why my uncles have these but maybe madness runs in the family lol.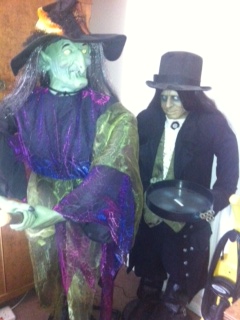 Have a fun Halloween and a safe Guy Fawkes night.
lots of love
Nanny Betty xx