See I said I'd update my diary more regularly now it's more comfortable to do so. It's a day off for me and I am lazing in bed still. It's early afternoon and I actually woke up around 6.30am as I went to bed too early (for me) but I've been doing stuff I love, gone and got breakfast and come back to bed, showered and got coffee supplies and am totally enjoying my self-indulgent day. I NEED days like this on a regular basis to stay cool. I think that's one of the secrets of being happy in life – learning what you need and giving it to yourself on a regular basis. As the airlines advise re oxygen masks: "look after yourself first – then you can be strong enough to look after everyone else"!
I had a fun long weekend with sissy baby Pauline as always. As she likes markets – on Saturday I took her to Romford market where there's an amazing amount of shops and Sunday I drove up to Camden market. I think poor Pauline was totally out of her depth when I took her into Cyberdog. Massive crowds, loud music, freakily dressed sales people, go-go dancers – she was either going to love it or hate it. She hated it so instead we had really delicious Sangria and took a more leisurely stroll around in the sunshine. For the first time EVER I went to Camden and didn't eat – a miracle!! I absolutely love all the different foods there but I managed to buy Pauline a huge toffee-icing topped, chocolate filled doughnut and not have even a crumb… on my god I'm going into a food fantasy right now lol.
Why have I suddenly developed saintly control? well – for the past two years I have been very close to being diagnosed as diabetic. I had my latest check-up last Friday and was waiting for the damning news – but yeah – I am still only borderline. So the death row reprieve may come yet! Hence my ability to resist naughty but nice doughnuts – there's also the fact that if I ate one – with my messed-up response – within 30 minutes I'd feel like I hadn't slept in two days – and that's just not fun.
Here's an email from Paauline and some photos from her visit:
Dear Nanny Betty.
Just to let you know that I arrived home safely.The nappy worked very well thank goodness.
Thank you for a wonderful time at your lovely nursery and I enjoyed our trips out including our trip to Camden Markets(which was an experience to say the least).
Nanny if I had to describe a visit to you then I would say that you are somebody who makes people's fantasies come alive in a relaxed and unhurried atmosphere.Hope that makes sense.
I should know by the end of the week when I would be able to come for another visit to your lovely nursery.
As soon as I hear when the next series of TOWIE is on I will let you know.Hope you get a chance to see the last episode which you missed.
It was lovely to see Terry again even though it was only for a short time.
Well that's all for now
Thanks again
Sissy baby Pauline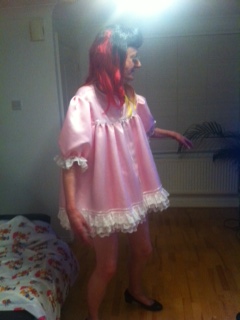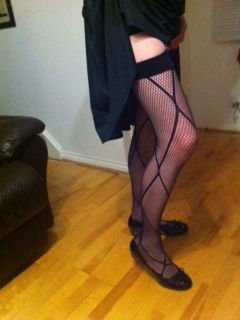 In the first pic Pauline is dressed as a sweet baby girl and we were both messing about and dancing to M People's 'One Night In Heaven' and in the second pic she is dressed as an older, slightly slutty girl. Great legs Pauline!
Pauline shared this video with me and I think all red-blooded adult babies will enjoy watching it. The babies are so cute – makes me want to kiss them – watch out for the baby bottle shaped island and lucky for that baby it had somewhere soft and bouncy to land!
I've decided – I'm going to start going to dance classes again – I haven't been in years – so hopefully it won't kill me but I do enjoy latin music pumping out. Afterwards I might even get around to belly dancing classes. To Livin' La Vida Loca – and enjoying this crazy life while we still can.
A big thank you to baby Sophie for the necklace – I love all heart jewellery, to Pauline for the Wombles CD, and to Debbie for the stuff so naughty I can't write it here 🙂
It's another New Year's Eve and my birthday coming soon. As usual I still haven't got around to deciding what to do. I've been trying to work out what I like doing best on my birthday – and strangely the one birthday that stands out was about 7 years ago – in the huge grounds of the house I was living in then – I had a silly-string fight with my friends and family. We were loaded with two different coloured cans of silly string each and at midnight we ran around outside attacking each other. Since I was very little I was never to be trusted with a water pistol lol and to this day I guess I love horsing around the best – so long as I don't get hurt. I'd welcome any suggestions re good places to go or things to do on the coming NYE as I want to have an especially great one this year.
until next time
Nanny Betty XX