My last blog produced an offer of help with updating my website – in the meantime I have sorted out the navigation buttons myself so that even on an Ipad you can get around the site. I realised that if I want to have a store on my website that I will have to remove all 'adult' pictures and stories as a certain popular online payment processor refuses to deal with adult sites. So please save any stories that you like as there is a chance that they will be removed soon if they are a bit too racy.
I have been looking more into making my own adult baby clothes and have bought some fabrics, ribbons, lace and a funky new sewing machine. I've got to learn how to sew yet and I have spoken to an experienced lady that may be helping me with making items. It's all fun and I hope to be offering items very soon including disposable nappies and plastic pants. All items I offer will be available for collection from the nursery as I know that many people cannot have items sent to their homes.
Baby Lesley came to see me recently for the first time and she was extremely nervous – here's the sweet email she sent me afterwards;
I have by the way sorted baby Lesley out with some plastic pants.
Baby D visited again and we went shopping together – she had a very big nappy on and could barely walk 🙂 here is a photo of her modelling my new pink dress – it looks extra short on her as she is very tall: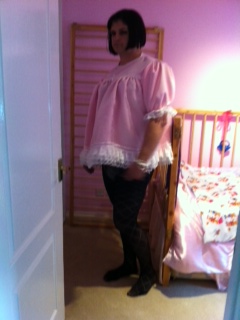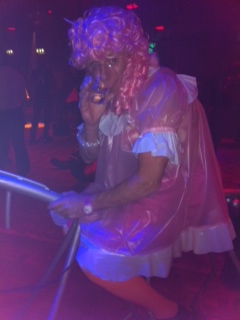 next to baby D is a pic of Pansy – I took her out dressed to a club as reward for all the hard work she's been doing at the nursery.
Well sissy baby Pauline stayed over for the weekend and she was looking very demure in a long silk dress – that's until I caught her looking at X rated websites on her Ipad and discovered what kind of underwear she was wearing. not so demure after all!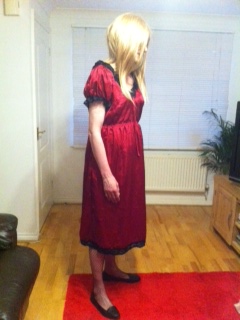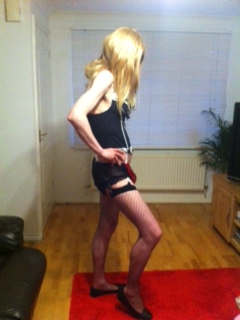 What can I say – she obviously needs lots of training!
I am now able to offer a daddy or uncle to join in with your visit to the nursery. let me know if you would like to book Uncle Frank.
Enjoy the summer and be good.
Nanny Betty xx