Firstly I'd like to say Happy New Year to you – let's hope that 2012 is going to be an excellent year for all of us. I had a lovely family Christmas and got lots of lovely pressies and on my birthday on New Year's Eve – Aunty Amy joined me and some family members and friends. After a house party at one point we were maybe going to be going to a warehouse party. I was quite excited as I've never been to anything like that before.. no I've never been to a rave 🙁 but as I don't take drugs and barely drink alcohol maybe I wouldn't like it? I am though one of those rare people that can go out to a club and enjoy myself totally sober – so I may well enjoy myself? Anyhow it was the youngens in the group aged 19 that spoiled the fun and didn't want to go raving. Not with us anyway lol.
I'd also like to say thank you to the many people that gave me help in opening the Word document. Someone suggested buying it – but I don't want it and on principle I don't want something that locks me out.
Baby Sophie has visited me a few times lately after her first visit to me last November. I have ordered her a beautiful adult baby dress from a company I haven't bought from before – if the quality is good and we like it I shall tell you about it once it arrives and show you a pic. Sophie also wanted her own wig, tights and shoes – each of these can be reviewed too once we've tried them.
It occurred to me that many adult babies and diaper lovers may not be in a position to order goods over the Internet or have them delivered to their home. I'm not sure there are any shops where you can go and buy adult sized plastic pants or AB dresses either. So – an idea I had – which there may or may not be a demand for – would you like it if I sold adult baby plastic pants, disposable nappies, tights, wigs, dresses and petticoats that you could come and collect direct from me in Chigwell? let me know if it's a service you would like.
I even thought of having some adult baby dresses made up to my own designs because if anyone knows what sissy babies like to wear it's me. I also know what's practical as my nursery clothing needs to go through a lot of washes and still look nice. I have bought some new plastic and satin pants for the nursery and they are really nice. The pink translucent ones in particular – I love the shade of pink so much – that I kept admiring them when they were hanging in my bathroom to dry. I even left them hanging there for an extra day 🙂
Here's a pic of Sophie modelling my new pink satin and frilly plastic pants – I also have these in white. I will take a pic of the transparent pink ones next time.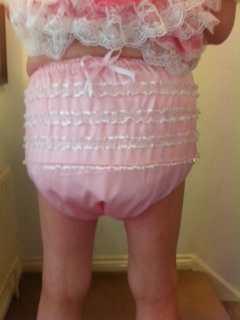 Adult Baby Sophie sweetly sent me a review of her stay with me in the nursery to share with you – I would like to add that being sent home with a sore bottom does not happen to all adult babies – only those that request it! Review of adult baby nursery by AB Sophie and here's a pic of her cosy in the cot – looking so sweet.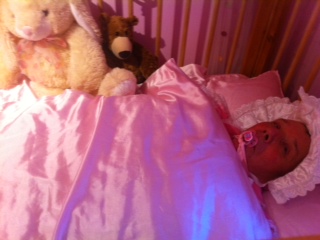 Also here is the adult baby story that has been on my PC for years forgotten about as I couldn't work out how to open it – it's by a professional writer from what I remember – I hope that you enjoy it. The Making of an Adult Baby by Stuart Rogers
I have another free story waiting for you – that will be in my next update.
until next time.
Nanny Betty XX